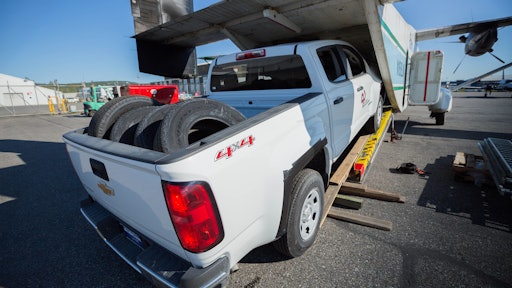 Alaskan oilfield service partner, ASRC Energy Services, has such confidence in the 2015 Chevrolet Colorado pickup as a field truck that the company will squeeze the mid-size trucks into a Shorts 330 Sherpa cargo airplane to fly them into areas without roads.
ASRC deploys employees across the state to monitor everything from oilfield exploration and construction to ensure regulatory standards are properly followed. Their trucks have to work in extremes from temperatures 40 degrees below zero to all of the challenging underfoot conditions that tundra can present throughout the seasons.
"Our fleet vehicles double as mobile offices for the majority of our employees, so we need to give them dependable vehicles in the remote areas where they work," said Chris Maynard, general manager of fleet operations, ASRC Energy Services. "These locations can vary from areas with no electricity to temporary roads built on top of the frozen tundra."
ASRC's fleet needs are as diverse as the terrain its employees encounter, which is why the company buys into Chevrolet's three-truck strategy: Chevrolet Colorado, Chevrolet Silverado 1500, and Chevrolet Silverado 2500HD and 3500HD.
When it comes to light duty, the Silverado 1500 is the vehicle of choice to take ASRCs management team to and from project sites and carry clients in an affordable-yet-rugged truck. The Colorado meets those demands with a smaller footprint. The Silverado HDs are a 365-days-a-year workhorses to aid client operations in the oil and gas market.
"On the service side, GM knocks it out of the park," said Maynard. "The Alaska market is pretty small, but GM looks at every sale as one of importance, so even the smallest problem gets special focus from a GM engineer, even if that means they have to send one to Alaska."