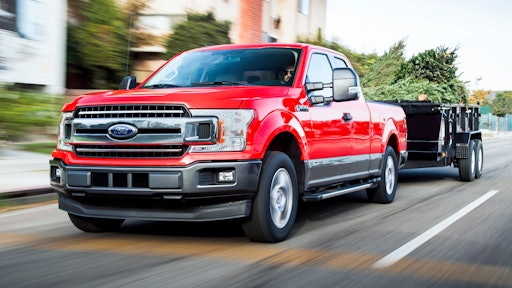 In the half-ton pickup truck segment, this past year has seen a dramatic break from conventional powertrain offerings as manufacturers strive to reach new fuel economy targets without sacrificing payload or towing performance. The result is going to be even greater product differentiation between brands as each company develops unique powertrain solutions.
Diesel engines, which were once the domain of larger heavy-duty, full-size pickup offerings, are gaining a lot of attention in the half-ton segment. Ford and Chevrolet recently announced diesel engine offerings for their half-ton pickups, while Ram Truck promises to reintroduce its EcoDiesel by the end of the year. These powerplants, in part due to the efficient nature of the diesel engine, promise fuel economy numbers never before achieved by full-size pickups, while still providing the impressive payload and towing performance customers have come to expect.
Revolutionary technologies also promise significant fuel economy and performance gains on the gasoline-powered platforms that have traditionally powered the half-ton segment. They include more advanced cylinder deactivation technology and advanced hybrid technology.
Despite the common denominators of multi-speed transmissions ranging from eight to 10 speeds and start/stop technology, there is a divergence in the powertrain technologies being integrated into the "Big 3" half-ton, full-size pickups. Let's take a look at the latest developments from Ford, Chevrolet and Ram Truck for the 2018/2019 model years.
Ford Raises the Bar to 30 mpg
A couple of years ago, 30 mpg in a full-size pickup without sacrificing towing and payload ratings would have seemed like a nearly impossible task. Yet, for 2018, Ford delivers the first-ever F-150 Power Stroke diesel with a targeted EPA-estimated 30-mpg highway rating. This truck also boasts 11,400 lbs. of towing capacity and 2,020 lbs. of payload capacity, plus 250 hp and 440 lbs.-ft. of torque.
"The more you tow and the longer you haul, the more you'll appreciate its class-leading towing and payload capacity and how efficient it is at the pump," says Dave Filipe, vice president global powertrain engineering.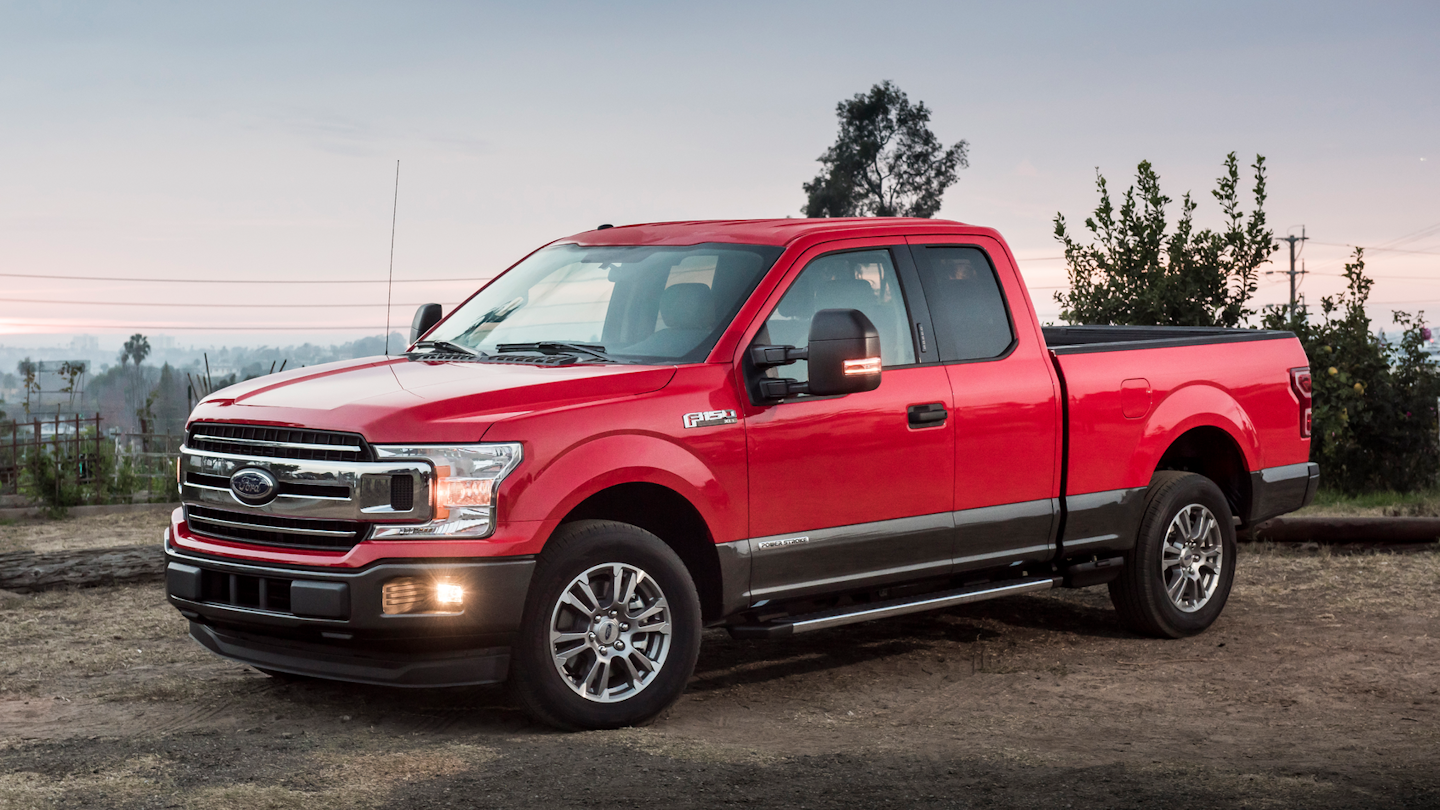 Ford F-150 DieselThe larger Ford Super-Duty pickups utilize a 6.7-liter Power Stroke diesel. The same team that worked on these vehicles has designed and engineered the 3.0-liter Power Stroke V6 diesel engine that will power the F-150. Designed for towing or hauling heavy loads, the V6 diesel's peak torque comes at just 1,750 rpm with strong torque delivery continuing throughout the rpm range. It also features the same compacted-graphite iron block material construction and forged-steel crank used in the 2.7-liter EcoBoost engine for added strength and durability along with reduced weight.
For greater responsiveness and reduced turbo lag, the engine relies on a high-efficiency variable geometry turbocharger. A common rail fuel injection system precisely optimizes performance and fuel efficiency, while a high-pressure 29,000-psi injection calibration enables smoother, quieter operation with reduced emissions. A cast aluminum oil pan and two-stage oil pump reduce parasitic loss and improve fuel efficiency.
Keeping the truck cool in extreme operating conditions was a priority. The 3.0-liter Power Stroke diesel features a premium mechanical engine-driven fan and dual radiator shutters for improved high-temperature, high-altitude performance, a key advantage vs. the commonly used electric cooling fans.
"We know that competing diesels with electric cooling fans have to dial back on power under extreme heat and altitude. So we decided on a viscous-controlled mechanical fan that has the capacity to move much more air across the radiator and intercooler in extreme conditions," says David Ives, Ford diesel engine technical specialist. "This gives F-150 Power Stroke owners more power and more passing capability in harsh conditions."
In more moderate driving and towing conditions, the F-150 engine control system backs off the fan load through a viscous coupler, closing down the two radiator shutters for improved aerodynamic efficiency and reduced parasitic engine loss.
A SelectShift 10-speed automatic transmission has been calibrated specifically for the 3.0-liter Power Stroke diesel's low-end power and torque curves. The transmission maximizes shift points and gear ratios to optimize power, low-rpm torque and efficiency. It can non-sequentially select the right gear ratio based on need. To help reduce fuel consumption and vehicle emissions during city driving, Auto Start-Stop also comes standard.
In testing along the Davis Dam in Arizona, an F-150 equipped with the 3.0-liter Power Stroke diesel engine climbed 13 miles at a 6% grade in temperatures in excess of 100° F, maintaining consistent power output throughout.
GM Offers a Powertrain Fit For Every Application
For the 2019 model year, the Chevrolet Silverado 1500 will offer several powertrain choices that will allow customers to pick the right choice for their particular application.
"Customers want the ideal truck for them," says Mark Reuss, executive vice president, global product development, GM North America. "That is why we will offer six different engine and transmission combinations on the 2019 Chevrolet Silverado, each with its own blend of performance, efficiency and value. One of the new engine choices is an all-new 3.0-liter Duramax diesel, which is an inline six that builds on our diesel expertise. I am really confident that we will have the best performing diesel in this segment."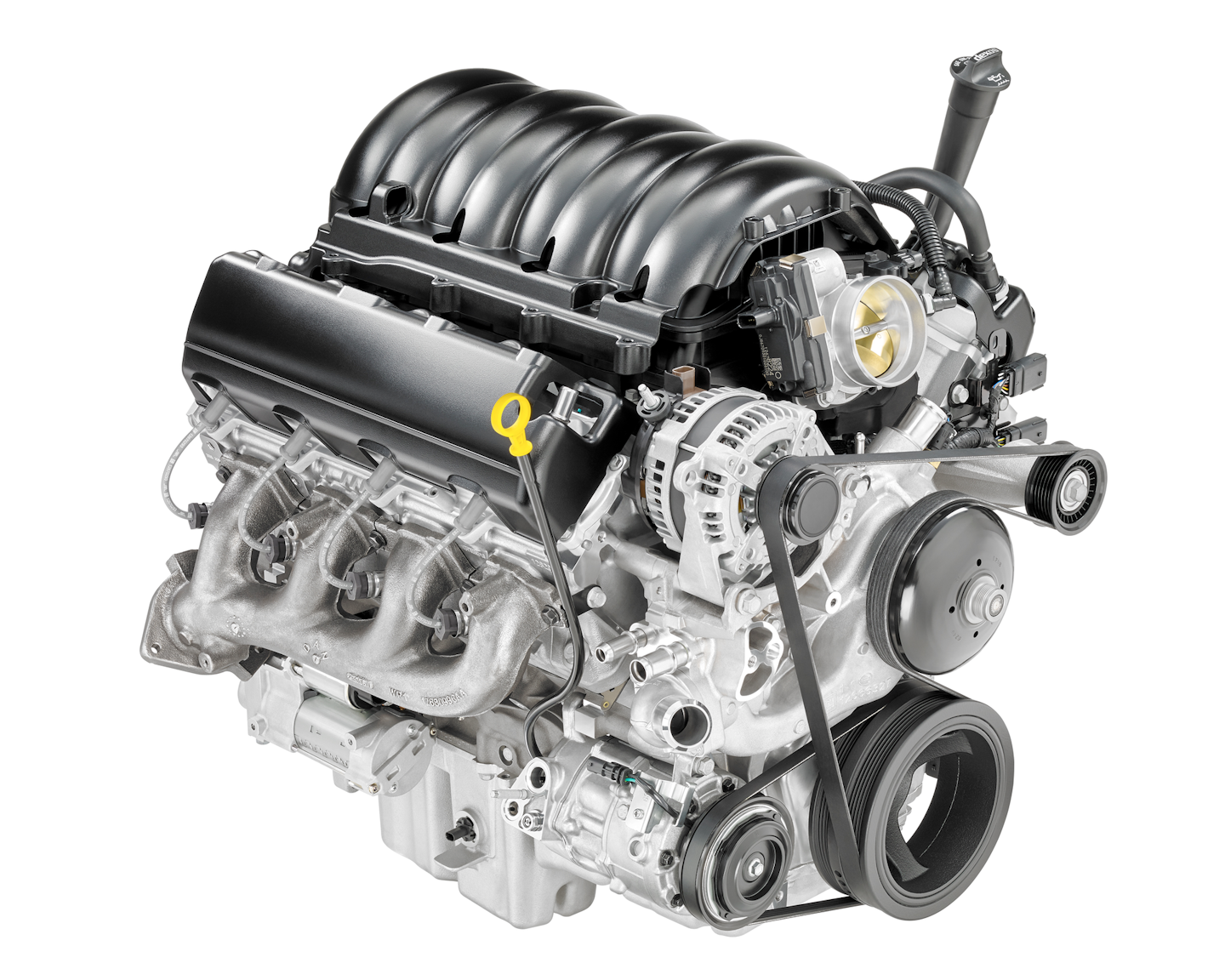 New gasoline engine options include 5.3-liter and 6.2-liter V-8s with the new Dynamic Fuel Management system that actively shuts off any number of cylinders, in a variety of combinations, depending on immediate needs to optimize fuel economy.New gasoline engine options include 5.3-liter and 6.2-liter V8s. "We will offer significantly revised versions of the 5.3- and 6.2-liter V8 gas engines," says Reuss. "These will be the most advanced small blocks ever built, with new technologies to optimize economy and performance.
"One of those is our new Dynamic Fuel Management that temporarily shuts off between one and seven cylinders in a variety of different configurations depending upon needs of the customer and the load that it is experiencing," he points out. "This is quite different than what is in the market today. The result of this technology is instant power when called for and impressive efficiency at constant loads and speeds."
Dynamic Fuel Management works by controlling engine oil flow via special valve lifters on each cylinder that activate or deactivate each cylinder via a software algorithm. The system operates in concert with the throttle system and provides only the power required, thus dramatically improving efficiency.
General Motors will also be rolling out the Duramax 3.0-liter inline-six turbo-diesel engine for its half-ton pickups, though no specs were available as of the first week of June. Both the 3.0-liter diesel and 6.2-liter gasoline engines are paired with a new Hydra-Matic 10-speed automatic transmission and offer start/stop technology to improve fuel economy for optimum performance and efficiency.
Ram Hybrid Boosts Economy and Performance
Ram Truck has taken half-ton pickup gasoline powertrain technology in a new direction. The complete redesign of the 2019 Ram 1500 platform will offer new eTorque "mild hybrid" systems on the 5.7-liter HEMI V8 engines and 3.6-liter Pentastar V6 engines later in 2018. A conventional Pentastar V6 (305 hp and 269 lbs.-ft. of torque) and HEMI V8 (395 hp and 410 lbs.-ft.) are also options.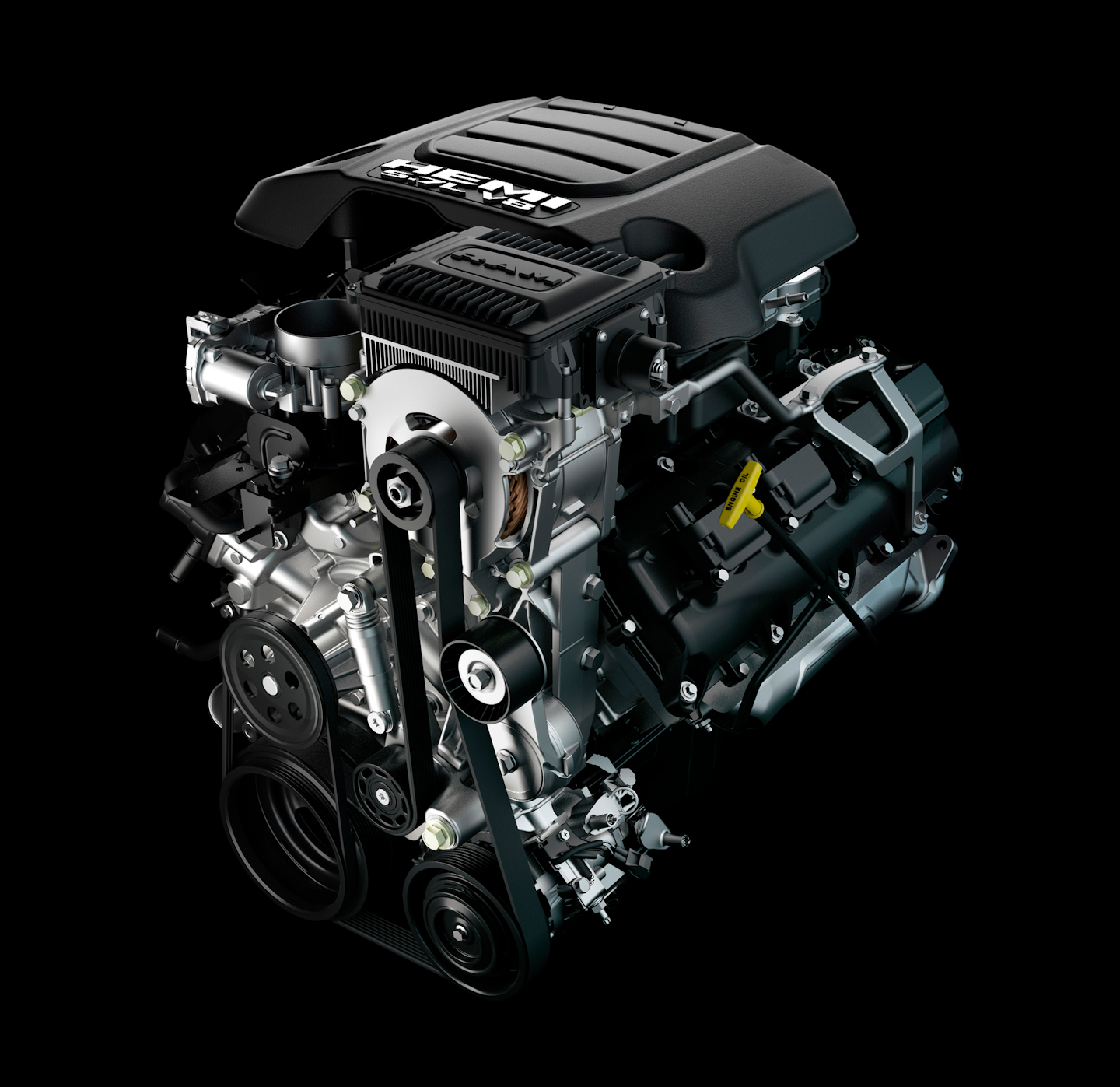 The eTorque mild hybrid system replaces the traditional alternator on the engine with a belt-driven motor generator unit that performs several functions. The motor generator unit works with a 48-volt battery pack to enable quick and seamless start/stop function, short-duration torque addition to the engine crankshaft in certain driving situations and brake energy regeneration, which improves responsiveness and efficiency.The eTorque mild hybrid systems replace the traditional alternator on the engine with a belt-driven motor generator unit that performs several functions. The motor generator unit works with a 48-volt battery pack to enable quick and seamless start/stop function; short duration torque addition to the engine crankshaft in certain driving situations; and brake energy regeneration, which improves responsiveness and efficiency.
The systems actually increase the pickups' launch performance as well as fuel efficiency. eTorque adds up to 90 lbs.-ft. of launch torque to the V6 and up to 130 lbs.-ft. to the V8. Efficiency numbers aren't in yet, but Ram engineers say eTorque engines have been delivering about a 10% improvement in both V6 and V8 configurations.
With the engine running, eTorque's motor generator unit feeds 48-volt current to a 430-watt-hour lithium-ion Nickel Manganese Cobalt-Graphite battery. The battery pack includes a 3-kW DC-to-DC converter to maintain the battery's state of charge and convert 48 volts to 12 volts to power the Ram 1500's accessories and charge its conventional 12-volt lead-acid battery.
The V6 and V8 engines with eTorque retain a conventional 12-volt starter motor, used for cold starts and first start of the day due to its greater efficiency in extreme temperatures.
In addition to spinning the engine for restarts, the eTorque recaptures energy during deceleration and braking to feed charge to the battery pack. eTorque also enhances the vehicle's driving experience by adding torque to the crankshaft during gear changes to minimize noise, vibration and harshness.
The eTorque motor generator is slightly different between the 3.6-liter Pentastar V6 and 5.7-liter HEMI V8 applications. The Pentastar eTorque unit is liquid cooled and mounted on the front of the engine. The HEMI V8 eTorque unit is air cooled and mounted toward the top of the engine in the traditional alternator location.
The small suitcase-sized, air-cooled battery pack mounts to the rear wall inside the Ram 1500's cabin. The case is insulated to dampen noise from the dual cooling fans. Cooling air is drawn from inside the truck and vented via the built-in cabin exhausters.
Both eTorque motor generator units employ a pair of belt tensioners to keep the eight-rib drive belt tight when the unit is generating electricity or adding torque to the crankshaft.
When it comes to diesel power, Ram Truck was at the forefront in the half-ton pickup market with its fuel-efficient EcoDiesel, which first appeared in 2014 through 2016 models. This was a popular option that was temporarily suspended due to questions from the EPA. Ram Trucks has been working with the EPA to resolve any outstanding concerns, and the company has promised a new EcoDiesel is coming later in the year.  
Companies in this article