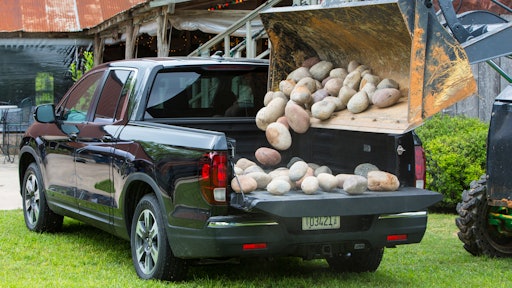 Honda
The Honda Ridgeline is the most American-made truck in Cars.com's 2019 American-Made Index. The annual study analyzes assembly location, parts content, drivetrain sourcing and factory employment to rank the most American-made cars, trucks and SUVs.
Five of the top 15 vehicles on the 2019 American-Made Index are trucks. In order of ranking:
 3: Honda Ridgeline
 8: Chevrolet Colorado
 9: GMC Canyon
13: Ford F-150
15: Toyota Tundra
Honda employs relatively many Americans at the factory level. It has U.S. assembly for more of the cars it sells here than GM and FCA — well above the industry average, which is just over half.
"The F-150 has lower AALA [American Automobile Labeling Act] content for the 2019 model year, with notable foreign sourcing among engines," said Cars.com's Senior Consumer Affairs Editor Kelsey Mays.
"Both the V-6 and V-8 engines in the Ram 1500 have a lot of Mexico sourcing, which drove down its scores. The Silverado 1500 and Sierra 1500, meanwhile, have some final assembly in Mexico, as well as just 42% AALA content [below the 55% cutoff to make the list]."
The 2019 Ridgeline was also the only pickup truck tested by IIHS to receive a Top Safety Pick.