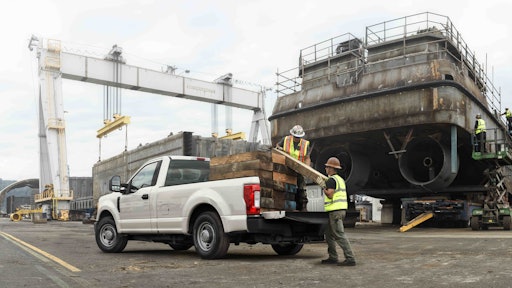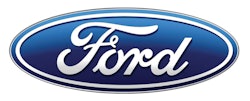 The all-new 2017 Ford F-Series Super Duty ups towing and hauling capability while pumping out more horsepower and torque. The Ford F-450 Super Duty SuperCrew 4x4 now features a maximum gooseneck tow rating of 32,500 lbs. Maximum fifth-wheel towing is increased to 27,500 lbs.
Maximum conventional towing is increased to 21,000 lbs. without the need for a weight-distributing hitch. Maximum conventional towing with F-250, with an all-new trailer towpackage, and F-350 single-rear wheel are increased to 18,000 lbs.    
Maximum gross combined weight rating for truck and trailer now tops out at 41,800 lbs.. That is more than half the maximum weight of an 18-wheeler semi-tractor trailer combination on most federal highways.
This capability is matched by never-before-seen towing technology. Super Duty is the first truck to offer adaptive cruise control and collision warning with brake support for heavy trailers, allowing truckers to traverse steep mountain grades while maintaining speed – even with a trailer weighing 32,500 lbs.
A center high-mounted stop lamp camera provides visibility into the cargo box, which is especially helpful when hooking up gooseneck and fifth-wheel trailers. An Ultimate Trailer Tow Camera System uses four digital, high-definition cameras to give the driver a 360-degree bird's-eye view surrounding Super Duty. Trailer Reverse Guidance provides visual cues and tips to help ease backing up a trailer. A first-ever factory-available trailer camera can be custom-placed on a trailer to improve visibility backing up.
Trailer towing customers benefit from a segment-first in-cab trailer tire pressure monitoring system, accessible from the comfort of the cab while stopped or on the highway. Blind Spot Information System with trailer tow is optimized for Super Duty to include the length of the trailer up to 33 feet long; BLIS® uses radar sensors in the taillamps to monitor areas that may not be visible to the driver.
Maximum payload of the 2017Ford Super Duty F-350 is 7,630 lbs. F-250 Super Duty boasts a maximum payload of 4,200 lbs.
The second-generation 6.7-liter Power Stroke V8 turbo diesel that powers Super Duty now a combination of 440 hp and 925 lb.-ft. of torque. That power is standard for every Super Duty diesel pickup – from F-250 to F-450 – without requiring special tuning or unique hardware.
The standard 6.2-liter V8 gasoline engine now offers 430 lb.-ft., with standard 385 hp.
Both diesel and gasoline engines are backed by the TorqShift six-speed SelectShift automatic transmission. The F-250 pickup with 6.2-liter V8 and all-new TorqShift-G six-speed automatic delivers improved fuel economy and capability for three-quarter-ton Super Duty customers.
Aluminum Body, Electronics Reinvent 2017 Ford Super Duty Pickups
[VIDEO] How Ford's 2017 Super Duty Pickups Eliminate Blind Spots
All 2017 Ford Pickup Trucks to Offer New STX Package
Request More Information
Fill out the form below to request more information about
Ford Pumps Up Capabilities of 2017 Super Duty Pickups