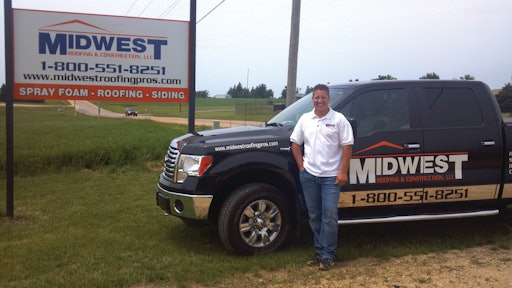 Midwest Roofing and Construction in Dodgeville, Wis., expects to save around $5,000 annually on fuel costs after converting the company's 2012 Ford F150 5.0L to run on clean propane autogas. Wisconsin propane retailer CharterFuels facilitated the vehicle conversion, fuel supply, and safety training as part of the national AllianceAutoGas network.
Autogas fleets are currently saving around $1.50 per gallon on fuel compared to gasoline. It's also cleaner burning and domestically produced, with 98 percent of the U.S. autogas supply made in America.
"The first month after the truck was converted to run on propane autogas, we used 354 gallons and saved somewhere between $400-500 on fuel," says Midwest Roofing and Construction owner Josh Fowler. "Now that we've been running the truck for a while, we've used more than 800 gallons of autogas and saved around $1,200. The truck is used to pull large loads, and we have been pleased with the reliable performance and towing capacity since switching to autogas."
Propane autogas is an ideal alternative fuel for businesses like construction and roofing companies that need dependability and rugged performance from their vehicle fleet. Autogas achieves 90 percent of the fuel economy of gasoline; and, because it's 30 percent cleaner, autogas fleets often report their vehicles needing less maintenance and having increased engine life.
"Eighteen million vehicles globally are already reaping the benefits of running on autogas, but only a fraction of those are in the U.S.," says Josh Budworth of Charter Fuels. "It's our mission to put more of these clean propane vehicles on American roads and help fleets cut their fuel budgets in the process."
Charter Fuels helps Midwest fleets switch to autogas through the Alliance AutoGas complete program, which includes vehicle conversions, installation of a fueling station at the fleet base, data integration for fuel management systems, operational and safety training and ongoing technical support. Alliance financing options also make it possible for fleets to make the switch to autogas at no upfront cost.
About Charter Fuels
Family owned and operated for four generations, Charter Fuels has provided the communities it serves with reliable warmth, expert energy solutions and greater peace of mind for more than 86 years. It has offices servicing 46 counties across Wisconsin, upper Michigan, northern Illinois, eastern Iowa and eastern Minnesota. Active in the local community, Charter Fuels donates profits from its pink propane delivery truck in conjunction with the American Breast Cancer Foundation's "Pink-Ribbon" campaign. Visit www.charterfuels.com for more information.