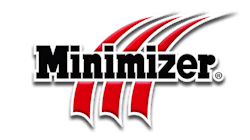 Minimizer earned silver in the Golden Bridge Awards – Made in the U.S.A. category for its heavy-duty truck fenders.
The annual Golden Bridge Awards recognize the world's best in organizational performance, innovations, products and services, executives and management teams, women in business and the professions, innovations, case studies, product management, public relations and marketing campaigns, and customer satisfaction programs from every major world industry.
More than 40 judges from a broad spectrum of industry voices from around the world participated and their average scores determined the 2014 Golden Bridge Business Awards winners.
"It's an honor to be named a winner by Golden Bridge Awards for this esteemed industry and peer award," said Craig Kruckeberg, Minimizer CEO. "This award is a testament to Minimizer's commitment to manufacturing American made products. We stand by our guarantee to deliver the lightest, most durable, longest-lasting truck fenders, brackets, and truck accessories in the trucking industry."