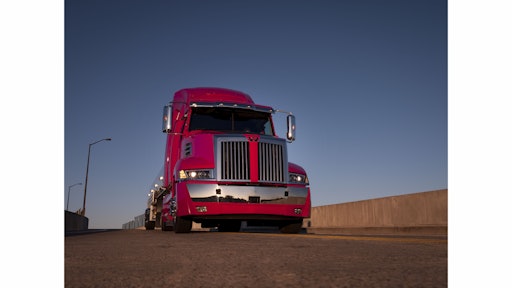 Following on the success of the Model 4700 "Baby 8", Western Star Trucks is diving into yet another untapped market segment, full aerodynamic Class 8 on-road trucks. The company has traditionally been a niche player with its current vocational truck marketshare hoovering around 4% and its over-the-road business just north of 2%. But don't let these numbers fool you. The company provides a quality truck to a limited customer base and has no intention of becoming a dominant marketshare force. But the company has been expanding its portfolio to grow its business. For example, the Model 4700 allowed the company to grow its marketshare where it now expects overall 2014 marketshare to reach 3%. According to Mike Jackson, general manager, the company just recorded its fastest year-over-year growth through June 2014 YTD.
But the company previously identified a critical gap in its product offering. The full aerodynamic Class 8 on-road truck segment currently represents about 60% of the overall Class 8 truck market. This gap will now be filled with the Model 5700XE. "XE – which stands for extreme efficiency – summarizes exactly what this new truck is all about," says Jackson. New features such as an aerodynamic hood, roof, chassis and cab fairings reduce drag and increase efficiency. The 5700XE boasts a 12% average aerodynamic improvement over the 4800/4900 models.
Due to the intended customer base, which includes owner/operators, small and medium-size businesses and reward trucks for the best drivers in large fleets, styling was not to be compromised for the sake of aerodynamcis. "The 5700XE builds on proven aerodynamic technologies from parent company Daimler Trucks North America and adds edgy styling to set it apart from other trucks," said Ann Demitruk, director of marketing for Western Star. The result is a truck unique appearance that nobody can mistake for another truck.
An Integrated Powertrain
But aerodynamics were only one piece of the fuel economy equation. These trucks are only being offered with Detroit engines - including the Detroit DD13, a new DD15, and the DD16 The DD15 features an asymetric turbo, the next generation ACRS fuel injection system and a variable speed water pump . While there will be an Eaton manual transmission available as an option, the standard transmission will be the Detroit DD12 automated mechanical transmission. The DT12 is a fully automated manual transmission featuring high-speed, computer-controlled shift and clutch actuators that automatically and seamlessly select the right shift pattern and perfect clutch engagement for fuel economy and driving conditions. The 12-speed DT12 is available in direct or over-drive top gear configurations. Other features – such as Creep Mode, which simulates a torque converter to improve low speed maneuverability; Skip Shift, which automatically skips gears to achieve cruising speed sooner; and eCoast, which enables vehicles to coast when the requested speed can be achieved or maintained with the engine operating at idle speeds while preserving momentum – will further maximize fuel efficiency and performance of the 5700XE.
For maximum efficiency you can opt for the Detroit integrated powertrain package, which includes a downsped DD15, D12 automated mechanical transmission with intelligent power managementand Detroit axles. The 5700XE with integrated Detroit powertrain offers a 15% fuel economy improvement over the 4800/4900 models.
Additional performance features include:

• A sweptback four-piece bumper with an under-bumper valance that contributes to aerodynamic efficiency.
• Halogen projector beam headlights that are optimized for aerodynamic performance and excellent visibility.
• A visor specifically engineered to work with the slope in the hood's rear air ramp to direct airflow over the cab without an aerodynamic penalty.
• Roof and cab fairings that sweep back for tighter trailer gap and help direct air flow over and around the trailer.
• Optional chassis side fairings that reduce drag by up to 6% while still providing easy access to batteries and DEF tank.
• The Western Star Twin Force dual air intake, which feeds a centrally mounted air filter to improve efficiency.
Western Star expects the expansion into the full aerodynamic Class 8 market to forther increase marketshare, claiming this product could help lead to 5% plus overall marketshare. The trucks will start appearing at Western Star dealerships in the first quarter of this year.