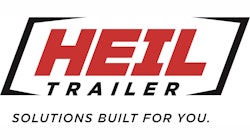 Heil Trailer, owned by American Industrial Partners (AIP), has announced it is now part of EnTrans International, LLC, along with SERVA, also an AIP-owned company. Both Heil Trailer and SERVA will continue to operate under their existing brand names.
Market and operational synergies will position EnTrans to be the global leader in its marketplace and place a solid foundation for growth over the long-term. EnTrans will be able to offer its customers the broadest product portfolio in the industry, including a wide variety of hydraulic fracturing equipment, as well as tank trailers used to transport dry bulk, refined petroleum and crude oil. 
Gary Riley will serve as the Chairman and CEO of EnTrans. Previously, Gary was the CEO of Enovation Controls, a global manufacturer of natural gas compression, transmission and control systems headquartered in Tulsa, OK. Gary has also been a member of the American Industrial Partners Advisory Board since 2006.
Randall Swift, currently the CEO of Heil Trailer, will become the President of EnTrans with responsibility for day-to-day commercial activities of both Heil Trailer and SERVA.  Joe Haniford, the COO of Heil Trailer, will serve as COO of EnTrans with responsibility for all manufacturing operations. Arty Straehla and Pete Seitz, the founder of SERVA, will continue in their current capacities and each will join the Board of Directors of EnTrans. In addition, Pete Seitz will serve as Special Advisor to the EnTrans CEO.
Over the coming years, EnTrans looks to become the best-in-class product provider in both the global hydraulic fracturing equipment industry and the associated over-the-road energy transportation market.