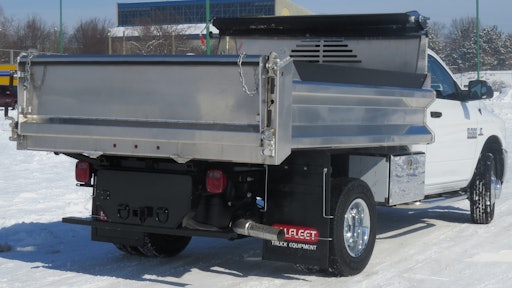 Crysteel Manufacturing unveiled the newly redesigned A-Tipper dump body made from 3⁄16" 5052 aluminum at the 2015 NTEA Work Truck Show. It has been redesigned with minimum welds and an aerodynamic design.
The Crysteel A-Tipper is designed for contractors and municipalities that need strength,durability and lightweight efficiency. The A-Tipper offers significant strength and safety with a crossmemberless understructure with 8-inch longsills and a ¼ integrated, tapered cabshield. The new design results in a weight reduction of 200 lbs per body. Lightweight aluminum also offers increased payload capacity, corrosion resistance and lower
maintenance costs.
A new tailgate features independent tailgate latching, minimal welds and 3/8-in. stainless steel handle. Positive independent locking latches allow users to easily drop the tailgate, spreadthrough,
or simply remove. All Crysteel A-Tippers come standard with 3/16-inch aluminum construction, rigid sides with single panel reverse bend, tarp mounting provisions and integrated receivers, 6-in. board
pockets, and LED lighting with one-piece wiring harness.
Request More Information
Fill out the form below to request more information about
Crysteel Introduces Aluminum Dump Body