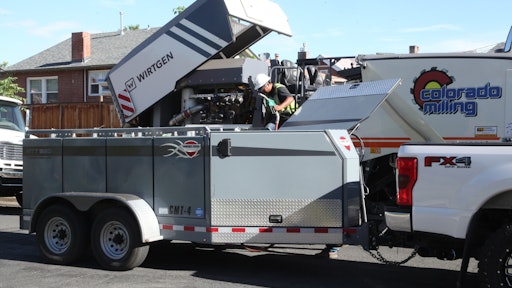 Thunder Creek
Contractors have very few options when it comes to refueling a mobile equipment fleet. The fueling can be contracted to an outside fuel supplier, which might not make financial sense for smaller fleets; you can use pickup truck mounted transfer tanks that hold anywhere from 100 to 150 gallon or you can use a fuel trailer. Any single tank over 119-gallons is going to require a Hazmat endorsement on the driver's license, which really restricts the flexibility on who can fuel jobsite equipment.
Denver, CO-based Colorado Milling LLC used to rely on transfer tanks mounted in its pickup trucks to fuel its fleet at the end of the day. "At the end of the day, we would have a guy off the crew take the service truck to a gas station," says Chris Vorhies, owner. "Most of the time he would take from two to three trips a night to fuel up all of the equipment to get it ready for the next day. It was overtime work and it was, in the long term, very expensive."
Colorado Milling runs a fleet consisting of four Wirtgen milling machines. "We typically have three to four jobsites a day and on every one of those jobsites is a milling machine, a wheel loader, a sidecast broom and a skid steer," notes Jordan Hill, superintendent. This equipment demands a steady supply of diesel fuel. "On any given day you are probably looking at about 400 gallons. We would haul pretty much everything with pickup trucks, so lots of trips back and forth to the gas station." The transfer tank size was limited to 119 gallons to avoid Hazmat requirements."We found tanks that were right under that limit." But this still resulted in an inefficient, labor-intensive practice. "Typically, at the end of the day, I would get done running the mill and while my crew was cleaning, I would start making laps to the gas station to fill everything up."
Transporting Bulk Fuel Increases Efficiency
Colorado Milling could not afford this inefficiency due to a strong work backlog. "Business is booming," reports Hill. "We are trying to do 12 months of work here in nine months." To address this issue, the company purchased a Thunder Creek MTT920 multi-tank trailer to increase efficiency of fueling operations. The Thunder Creek multi-tank trailer utilizes multiple 115-gallon tanks individually connected to a pumping system. The federal DOT requires a Hazmat endorsement when the tank size reaches 119-gal. With the valves between these tanks shut, it is possible to legally mitigate the need for the driver to carry a Hazmat endorsement. In many cases, a CDL may not be required either depending upon local DOT regulations.
The trick to avoiding the Hazmat endorsement is in the design of the trailer tanks and plumbing, which allows the Thunder Creek trailers to haul 460-, 690- or even 920-gallons of diesel fuel. Everything flows into a common manifold. Shutting off the valves for each of the tanks after fueling makes the trailer legal for transport since each individual tank is under the 119-gallon limit.
For Colorado Milling, the Thunder Creek multi-tank trailer meant fewer trips to fuel equipment. "We probably empty this trailer every other day," says Vorhies. "So we are filling this trailer up to capacity about three times a week. It cuts down on taking trips to the fuel station. It is very valuable just in cutting overtime and costs."
"We get two to three days on a fillup," notes Hill. But there are also advantages in terms of purchasing the fuel in bulk. The ability to buy in bulk means the company saves money by avoiding the on-road fuel tax. "I can go to the station by our shop and get the red dyed fuel." This is designated for off-road use and therefore is not subject to road use taxes. "We were using truck stop fuel and paying taxes." In addition to saving trips, the trailers allow time savings when filling the equipment. Many of the pumps on transfer tanks have limited flow rates in terms of the gallons per minute of diesel fuel that can be transferred. "With the much larger pump on the trailer compared to what we could get on a pickup, it is a lot faster."
It is important to maximum utilization of current employees due to the shortage of labor available. "Being able to have a non-CDL or non-Hazmat driver fuel our equipment on a daily basis, that is a very important deal with this trailer," says Vorhies.
Gain access to the equipment is another important consideration. The trailer has proven maneuverable for Colorado Milling's jobsites. "It is short and easy to pull," notes Vorhies. "You can get in and out of tight areas pretty easily. With the DEF tank, we are able to roll up on a job and fill the equipment up without making a mess and be in the and out as quick as we can get the jobs going."