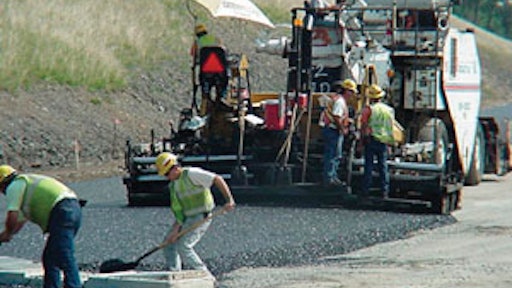 In an effort to minimize the disruption caused by construction, and more importantly as a courtesy to its paying customers, the Pennsylvania Turnpike Commission added a $10 million incentive for early completion of the Donegal project located just east of Pittsburgh from milepost 85 to milepost 94. The reconstruction was the first time the toll road has been replaced from the ground up since it opened in October 1940. Dick Corporation, a construction management company, and New Enterprise Stone and Lime Co., the general contractor who produced and placed 590,000 tons of new hot mix asphalt, proved to be up to the challenge and finished the nine-mile project a full year earlier than the original November 2005 completion date.
The $81-million project called for complete reconstruction of the roadway and bridges, which involved removal of the existing pavement and shoulders, replacing the Donegal interchange bridge, rehabilitation of seven other structures, and construction of 13 retaining walls. The entire roadway was relocated east of the Donegal interchange to improve safety by eliminating an "S" curve. A third travel lane was also added eastbound from MP 88 to MP 94, as well as a third westbound lane from MP 93.1 to MP 92.2
Some of the challenges posed by the project included maintaining drainage during the staged construction, relocating the road east of Donegal, maintaining quality and safety during the acceleration of the project, and minimizing the impact to daily commuter traffic during construction.
Soil stabilization problems required additional engineering changes and added drainage, which added costs to the original $67-million project, but the contractor's crews methodically addressed each challenge and kept moving forward with early completion in mind.
Of interest, paving crews achieved density specifications with only static mode compaction. New Enterprise employed a Blaw-Know PF3200 paver equipped with an Omni 3 10-foot extendable screed, a Caterpillar CB 614 breakdown roller, a Hyster pneumatic roller and a Caterpillar CB 534C finish roller in placing the new road surface.
"The Turnpike Commission has not been happy with previous projects that were compacted with vibratory rollers," says Mark Mitchell, project engineer. "Operators sometimes think they can move faster when operating in a vibratory mode, but if they travel too quickly down a stretch of fresh asphalt, they end up creating a washboard effect to the road surface."
The project
After primary and asphalt contractor New Enterprise Stone and Lime removed the original 18-inch bituminous road and slag subbase, a new 6-inch subbase of 2 1/8-inch stone was put in place before paving operations could begin. Paving crews then began laying a 4-inch asphalt treated permeable base course, followed by an 11-inch (two lifts) bituminous concrete base course, and then a 3-inch 25mm Superpave binder course before topping the project with a 2-inch 19mm Superpave wearing course. Both Superpave mixes included 15-percent reclaimed asphalt pavement (RAP) and 64-22 AC binder
"The project required undercutting some areas where we had soil stabilization problems due to springs, and those areas required additional drainage installation before we could rebuild the road," Mitchell says.
Complete new construction was also required in areas where the original two 12-foot-wide lanes were expanded to three travel lanes and where the road was relocated. The project also called for 12-foot-wide shoulders.
And even though paving crews were restricted to static compaction, the contractor achieved 98 percent density throughout the project and was able to maintain an aggressive paving schedule by working 12- to 18-hour days and occasional weekends.
"Most of the paving work was done at night to minimize disruption to commuter traffic during the day, but we managed to place 4,000 tons of HMA daily on average," Mitchell says. "We used a material transfer vehicle to prevent heat segregation and it also helped to have the New Enterprise asphalt plant located close to the project."