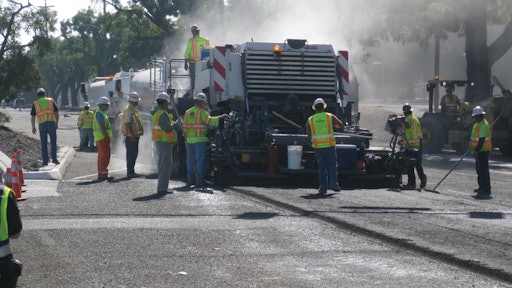 Sustainability is a hot topic in the construction industry right now. Many are familiar with LEED (Leadership in Energy & Environmental Deisgn) from the U.S. Green Building Council. LEED is a voluntary green building tool that addresses the entire building lifecycle recognizing best-in-class building strategies; many cities have chosen to mandate LEED for their building projects.
In the road building industry, there is no mandatory rating system that contractors and agencies must participate in, nor is there any in the works. The road building industry, however, might inevitably head in a similar direction soon. One voluntary program, Greenroads, is the closest the road building industry has to LEED.
Much younger than LEED, the Greenroads Rating System is a sustainability rating system for roadway design and construction that awards points and helps quantify the sustainable attributes of a roadway project. It's applicable to all roadway projects including new construction, reconstruction and rehabilitation (even overlays), preservation and bridge projects.
Greenroads is a collection of sustainability best practices (credits) that relate to roadway design and construction. Most credits are applicable to all roadway projects including new construction, reconstruction and rehabilitation (even overlays), preservation and bridge projects. Achieving these credits can earn points toward a total score for the project, and in general, this score can be used as an indicator of sustainability for the roadway.
"Generically, a 'rating system' is one useful tool for measuring performance, just like a report card is also used to measure performance," explains Jeralee L. Anderson, Ph.D., P.E., LEED AP, executive director of the Greenroads Foundation. "The intent of Greenroads is to encourage implementation of design and construction best practices that are more sustainable over the lifecycle of a roadway project. We do this by setting a new baseline for sustainable roadways as a minimum and then encouraging projects to do even more."
How it works 
Greenroads is a collection of 48 sustainability best practices, called "credits," that relate to roadway design and construction. Of these 48 activities, there are 11 which are required that are called "Project Requirements." The rest are all voluntary and worth points from 1-5 based on their overall sustainability impact, for a total of 108 points possible.
A project team can choose to implement any of the Voluntary Credits and earn points toward a total score for the project. An additional 10 points can be collected for innovative ideas called Custom Credits, bringing the maximum points to 118. Since 2011, a total of nine Custom Credits have been developed to date that are available to all registered projects, including a credit for a credential called the Greenroads Sustainable Transportation Professional (STP). Four different certification levels (ratings) are available depending upon total score on a voluntary basis: Bronze, Silver, Gold and Evergreen. The minimum threshold starts at earning 32 points (about 30% of those possible) with completion of all 11 project requirements.
"A Greenroad has a number of certain special features or characteristics that make it slightly different than a normal road project," says Anderson. "These features or characteristics are special because the opportunities exist for designers and contractors to make conscious decisions that measurably improve sustainability."
With an asphalt project, Anderson uses the example of choosing to use warm mix instead of conventional hot mix where it would be appropriate. Similarly, an asphalt pavement that is characterized as porous may be a more sustainable choice in certain contexts. Or the decision could be something that does not just focus on materials choices, like the contractor having a formal plan for managing noise during construction or for measuring water use during construction activities.
"The coolest part about Greenroads projects are that they are all made of different features and have different purposes," says Anderson. "There is really no cookie-cutter design or formula. A highway project can be just as green as a downtown business corridor or the residential street in a neighborhood. The rating system works as a great tool to recognize the diversity of features in a road project regardless of context or location.
Who rates the project?
The Greenroads Foundation is an independent body that runs three charitable programs: the Project Rating Program, Sustainable Transportation Education Program, and a Membership Program for organizations and individuals.
The Greenroads staff rates the projects, provides support to project teams throughout the rating process, teaches classes and webinars, administers the STP professional credential program, and continuously updates and maintains the rating system through ongoing research.
"The major benefit of having a non-profit with independent staff is that we can work with all types of organizations (owners, designers, contractors) and we remain unbiased," says Anderson.
Will it cost more?
There is not any evidence that shows green construction practices for roadways costs any more than conventional construction methods, says Anderson.  However, to date, all of the certified projects have saved money or come in at budget.
"We're trying our best to keep track of what we learn from our projects in terms of cost data," she says. "Experience from the building industry shows there is some evidence that there may be a little extra spent on upfront design for slight reduction in initial or lifetime cost for construction."
There is a small fee for participating in the certification program based on construction cost. There may also be some soft costs for the design and construction teams associated with participating in certification. "It's a good thing to keep in mind," says Anderson. "It's a great idea to think about doing certification and committing to it up front. The earlier Greenroads is engaged, the more likely the project will be successful."
Currently, Greenroads has certified nine projects. It just wrapped up one for the City of Tacoma, which is also currently drafting its own Green Road and Infrastructure ordinance. It would be the first city in the world to do so.
"We expect at least three more by the end of 2013," says Anderson. "The current registration log includes over 30 other projects at various stages of development representing over $5 billion, and located in seven states and three countries outside the U.S. (Canada, New Zealand and South Africa). Later this year, we expect to start pilot projects in Taipei and also Abu Dhabi."
What's the future of sustainability certification for roadways?
Sustainability is here to stay. The question is not will a rating system like Greenroads become a mandatory piece of the project puzzle, but when.
"That depends on the owner agencies and how they want to use the standard," says Anderson. "As a non-profit organization, we cannot actually require anyone to use of the rating system, and we prefer to encourage keeping the system voluntary. Attitudes, when participating in something voluntary, are often more conducive to enthusiasm, success and innovation than being forced to do something.
"Of course, I would not be surprised to see adoption of Greenroads standards in certain local conditions based on how green building standards have been adopted, and in fact, the Foundation can help local agencies do this if they want," she continues. "There is a lot of crossover between Greenroads and the Complete Streets policies that have already been adopted by over 500 cities in the U.S., so it's certainly possible to go either way."
It's important to note that, though the rating system is a great tool, any great tool still has limitations and does not necessarily work for everyone.
"Greenroads is not the silver bullet of sustainability," says Anderson. "It's simply an indicator and it happens to be easy to use, but sometimes it does not always recognize 100% of the good things that are going on in each project that may make it even more sustainable – also it unfortunately cannot prevent bad decisions from being made either. But we do think it does a good job recognizing sustainability in road projects as it was designed for doing, and we have tested to make sure it works to do just this – recognize sustainable attributes that measurably contribute to a greener road."