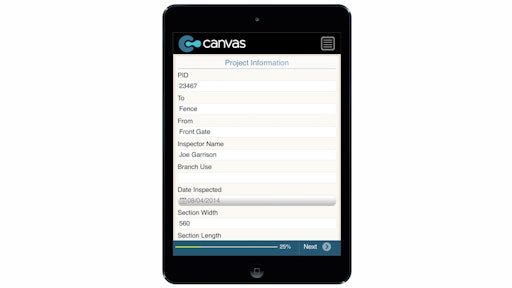 Is your work truck starting to look like a filing cabinet has blown up inside of it? Jobsites can be stressful, messy places. The last thing you want to worry about is losing yesterday's safety form or not knowing exactly what specs you need for any given job. 
"Paper forms used today for site inspections, site safety, invoicing and other business processes are burying construction firms," says Jason Peck with GoCanvas. "The average annual cost of paper per employee is $80, and 70% of businesses would fail in three weeks if they had a catastrophic loss of paper due to a fire or flood." 
Canvas is a cloud based software service that enables users to collect information using mobile devices, share that information and integrate with the company's existing backend systems.
"Canvas also offers the largest mobile business application in the world that enables asphalt contractors and other businesses to transition from their existing paper-based processes to digital ones, by letting them choose and customize content from its vast library of more than 14,000 mobile business apps," Peck says.
What does it do?
GoCanvas' cloud-based software and mobile business app store allows asphalt contractors to download, customize or create mobile apps that take the place of paper forms. This can include site safety and inspection forms, asphalt pavement condition survey forms, hot mix asphalt inspection checklists, asphalt work orders, and other business-related documents.
"Despite a desire to move to mobile apps, this shift has eluded many asphalt contractors that cling to archaic paper processes and Excel spreadsheets for fear that developing a custom mobile app will prove too costly and time intensive," Peck says. "But with GoCanvas' affordable cloud-based service, asphalt contractors can fully benefit from the shift to mobile apps." 
GoCanvas has also taken data collection to the next level, by addressing the fundamental shortcomings of paper forms.  With GoCanvas apps, users can upload images, track GPS location, attach databases of customer lists, perform complex calculations, require certain fields to be completed and even capture signatures. All this data can be synchronized with backend software systems, eliminating redundant data entry, and all data captured is stored in the user's account in the cloud, allowing them to access their "paperwork" from any web browser.
Customize to your needs
Caltrans is just one of many companies to customize GoCanvas to their specific needs. One of the apps they have created is "The Caltrans Hot Mix Asphalt (QCQA): Liquid Asphalt Pavement Inspection Plan" mobile app. The description indicates that a contractor is responsible for inspecting the production, transportation, placement and compaction of hot mix asphalt and the finished roadway surface. The quality control plan must include planned inspections and list hot mix asphalt inspectors' duties for the production facility and roadway. This app then provides a checklist that covers: Inspection Item, Type of Inspection, Frequency, Location, Responsibility and Attribute or Tolerance.
Users of the app can input their information that can be shared with other uses and immediately back to the office from the field.
"Time and cost savings are key benefits of using GoCanvas software," says Peck. "It is not uncommon for individuals responsible for site work as well as safety and compliance reporting to hand write notes in the field, return to the office hours or even days later, re-type all of the notes into the computer, download pictures and try and match each photo to the corresponding data entry. This process is painfully slow and inefficient, requiring many organizations to spend more time on paperwork and reports than doing the work.  
"By transitioning from static paper forms to dynamic mobile apps, these processes become far more efficient. Mobile forms can be pre-populated with necessary fields to cut down on the time it takes to fill out forms on-site; provide support for image capture, GPS functionality and other features, and enable the information to be sent from the worker's mobile device to the firm's back-end system in real-time via the Cloud."
In addition to cost savings that result from eliminating errors and time associated with paper forms and errors common to manual processes, cost savings are extended as data captured via the mobile app solution is automatically transmitted in real-time to corporate office back-end systems so that project managers are receiving a consistent flow of key customer and project information. Project managers can analyze this information and head off cost impact issues in the field, or other data related to the project. 
"GoCanvas improves the productivity and efficiency of workers on site, enhances site safety, and reduces costs associated with inefficient paper forms and manual processes," Peck says.
Most apps are compatible with iOS, Android, Blackberry and Windows. For more information, visit http://www.gocanvas.com
Companies in this article