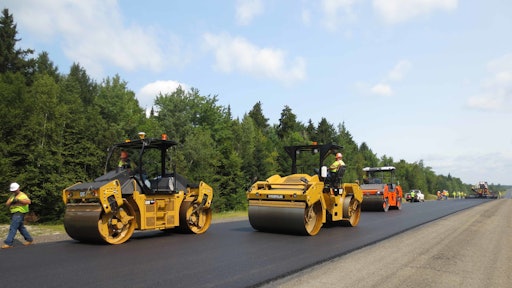 As funding for America's highways was about to expire last month, Congress passed and President Obama signed the Fixing America's Surface Transportation Act (FAST Act).
The five-year, $305 billion highway bill calls for spending approximately $205 billion on highways and $48 billion on transit projects over the next five years. It is the first long-term national transportation spending package in a decade and follows a string of temporary patches that began before Obama entered office. 
A multiyear highway bill was long overdue, said Transportation Secretary Anthony Foxx after the measure was adopted.
"After 36 extensions, hundreds of congressional meetings, two bus tours, visits to 43 states, and so much uncertainty, it has been a long and bumpy ride to a long-term transportation bill," he said. "It's not perfect, and there is still more left to do, but it reflects a bipartisan compromise I always knew was possible."
According to the National Asphalt Pavement Association (NAPA), the FAST Act would grow annual federal highway investments by 15.1% from the current $40.3 billion to $46.4 billion by FY 2020. The legislation also provides five years of predictable funding for the asphalt pavement industry.
However, even before signing the five-year FAST Act on Dec. 4, President Obama recognized this wasn't a homerun.
"This bill is not perfect, but it is a commonsense compromise, and an important first step in the right direction," he said. "We should also recognize that we still have work to do. Congress should pass a bill like the GROW AMERICA Act I've proposed in the past, one that supports even more jobs and invests even more in our roads and highways."
Where the funding comes from
The FAST Act uses a variety of onetime cost savings and non-transportation resources to supplement incoming trust fund revenue to support its investment levels over the next five years.
The measure formally reauthorizes the collection of the 18.4 cents per gallon gas tax that is typically used to pay for transportation projects. The gas tax has been the traditional source for transportation funding since its inception, but lawmakers have resisted increasing the amount that drivers pay.
The federal government typically spends about $50 billion per year on transportation projects; the gas tax only brings in $34 billion annually. Therefore, the FAST Act also includes $70 billion in "pay-fors" to close the $16 billion deficit. 
Some of the revenue offsets in the bill include $53.3 billion from capping the Federal Reserve System's surplus account at $10 billion, $7 billion from a reduction in the Fed's dividend to large member banks, and $6.2 billion from a sale of 66 million barrels of oil from the Strategic Petroleum Reserve.
The FAST Act provides five years of funding predictability for states and fewer federal regulations on infrastructure projects but doesn't solve the HTF's fundamental revenue problem, said Pete Ruane, president of the American Road & Transportation Builders Association (ARTBA).
"Congress and the Obama Administration again sidestepped a golden opportunity to put the federal highway and transit investment program back on solid financial footing for the long term," says Ruane. "They also fell short in providing the level of investment that would result in demonstrable improvement in the overall physical conditions, performance and safety of the system."
An AASHTO staff analysis shows the bill's highway programs will see an overall funding increase of about 5% the first year and 2% annually after that. But that analysis also points to a sizable cut looming for state DOTs' highway funding in the final year of the FAST Act.
As a longer-term budgeting provision, the law locks in a $7.6 billion rescission of unobligated contract authority on July 1, 2020, and requires the state agencies to apply their cuts proportionally across certain program categories while exempting others.
Unless that provision is removed in coming years, state DOTs will face contract authority cuts midway through the summer construction of 2020, says Joung Lee, AASHTO's policy director, and that could severely impact their entire fifth year of project planning under the bill.
"If this were to happen, at best there would be a major reduction in states' flexibility to manage their highway programs; at worst, it could lead to cuts in federal funding for vital projects all over the country for that year," Lee says.
Freight program
The FAST Act will be remembered for its freight provisions, says NAPA. The final conference agreement calls for expanding the National Highway Freight Network (NHFN) to include the Critical Commerce Corridors (CCC), which uses a coordinated regional planning approach to create a seamless, multi-modal national system.
The legislation also combines freight provisions from both the House and Senate bills that creates a new core freight program as part of each states' formula allocation and replaces the old TIGER Grant program with a new freight discretionary grant program.
"Essentially, these programs create a new bucket of highway projects that are eligible for federal funding," says Jay Hansen, executive vice president at NAPA. "Unfortunately, due to their complexity, states may not have these types of projects ready to go, so the spend out rates will be slow."
Other provisions
The FAST Act converts the Surface Transportation Program (STP) into a new Surface Transportation Block Grant Program (STBGP). Funds under this program may be used to fund highways, bridges, tunnels, ferries, and other types of projects as listed in the bill.
The funding is divided between the state transportation departments and municipalities (ST/MUN) as indicated. The STBGP is a core highway program which has the most flexibility on project eligibility.
"States tend to spend their funding on highways while mayors and local governments tend to invest in transit and enhancement-type projects," says Hansen. "The FAST Act sends a clear signal that Congress wants local government to have more say in how federal highway dollars are spent."
The FAST Act cuts the Transportation Infrastructure Finance and Innovation credit assistance (TIFIA) program from the current level of $1 billion to $275 million in FY 2016 (growing to $300 million in FY 2019 and 2020).
"TIFIA helps spur public-private partnership (PPP's) type projects; however, the US DOT had difficulty implementing the program resulting in a slow spend-out rate," says Hansen. "The funding levels in the FAST Act are more in line with actual TIFIA spending."
The FAST Act also includes the NAPA-supported provision to expand the current exemption to the hours of service rule for drivers of construction vehicles, allowing those operating within a 75-mile radius to restart their work week after 24 hours of rest.
"This will provide some relief from the onerous hours of service regulations for NAPA members," says Hansen.
The FHWA's Every Day Counts (EDC) initiative, which is designed to spark greater use of innovative technologies and processes within the transportation industry, was also made permanent.
The FAST Act also reauthorizes the Accelerated Implementation & Deployment of Pavement Technologies Program, which provides $12 million annually ($6 million asphalt, $6 million concrete) to use innovative pavement technologies in the field.
"This was a NAPA top priority," says Hansen. "NAPA worked to establish the program under MAP-21 which led to the very successful and ongoing FHWA-NAPA Cooperative Agreement.
The bottom line for the asphalt industry
For the most part, there are a number of things to like about the FAST Act.
It provides five years of funding predictability and less federal red tape for state transportation improvement programs. This, in turn, will help maintain employment, assists the public and private sectors to plan ahead, and it will speed up project delivery.
"It puts in place a reporting process that will provide more transparency and accountability," says ARTBA's Ruane. "Highway users will now be able to know how and where their federal fuels taxes are being invested in their community. And it creates the program framework to finally start modernizing our National Highway Freight Network."
All that is missing is the money to get that job done right, says Ruane with ARTBA.
"Five years goes by fast," he says. "In four years, state transportation departments will again be staring at a looming funding abyss.  At best, we will be treading water." 
According to NAPA, however, the FAST Act will offer an immediate and significant boost to highway spending in 2016 -- $2.1 billion (5.1%) above 2015 levels. Congress still needs to pass an FY 2016 Transportation Appropriations Bill to confirm the funding levels specified in the FAST Act.
Highway spending would then grow by 2.1 to 2.4% per year after 2016. Asphalt pavement tonnages in the future will correlate closely with the growth rates established in the conference report and grow as states increase their own spending on highway and road projects.
"Now that states know what the federal commitment will be over the next five years, I see them taking steps to boost their own investment levels," says Hansen. "States that have projects on the shelf and ready to go will take advantage and there will be a positive impact in all 50 states.
"And the freight program, while it will spend more slowly, is a great opportunity for the asphalt market," he continues. "Overall, this is a very good bill for the asphalt industry."
What contractors think
For road building contractors like Payne & Dolan Inc., based in Waukesha, WI, the certainty of five years of federal funding allows the company to make longer term capital investments in equipment and labor.
"It's hard to develop an intelligent operational plan and business plan when you're always guessing about tomorrow," says John Bartoszek P.E., vice president at Payne & Dolan.
Bartoszek is critical of the level of funding, however, and the unwillingness of politicians to invest in our infrastructure.
"I'm not convinced that the way to pay for the bill was the best," he says. "We need to be honest with ourselves and quit talking about the problem and solve it. A real increase in revenue for our country's infrastructure is needed. It's disappointing that the political will isn't there to get a true revenue stream into the Highway Trust Fund."
For Payne & Dolan, the federal component of funding is only one piece of the puzzle. "We rely on both the federal and state funding to be adequate," he explains. "In Wisconsin the need is there, but the political will to increase revenue has not happened. Our legislature wanted to significantly increase bonding in lieu of generating revenue to pay for our infrastructure. While a smaller bonding increase did happen, the program is still actually less for the next two years.   
"In Michigan, they passed a $1.2 billion increase for road and bridges that gets phased in over five years starting in 2017," he continues. "This will have very little effect for 2016 but gives us the comfort that the workload will be increasing. We have also seen a nice uptick in the commercial side of our business and expect that to be solid through 2016."
Kevin J. Kelly, president & CEO of Walsh & Kelly and incoming NAPA chairman, says the immediate boost in highway funding under the FAST Act will help fund projects around his state which is a key component to the future economic vitality of Indiana. 
"The FAST Act will also allocate an additional total of $152,440,729 to Indiana for a new freight program to fund Critical Commerce Corridor-type projects to improve the movement of freight while supporting current transportation needs," he says."This bill gives DOTs the assurances they need to break ground on many of these long-needed projects. 
"Congress did miss a chance to address the structural problem of how we fund infrastructure construction and maintenance," he continues. "That is an issue we will have to address — and the sooner the better — but for now, I am very happy to put people to work improving the performance and drivability of Indiana's roads."
Michael Cote, M.B.A., P.E., NAPA chairman and executive vice president & chief development officer at The Lane Construction Corp., headquartered in Cheshire, CT, says the five years of predictable funding is a boon to the industry.
"Projects will be advertised, bid, and awarded on-schedule which allows for better all-around allocation of resources," he says . "Hiring decisions and capital expenditures for plants and equipment can be committed to with far less risk. This will stimulate the economy at many levels and, at the same time, provide much-needed infrastructure maintenance and capacity improvements. The bill is win-win for everyone."