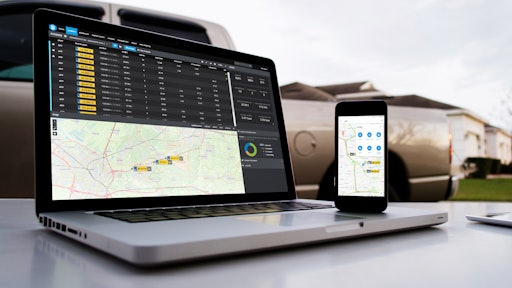 Project owners, plant operators and paving contractors have access to data on hundreds of different issues that have happened on their jobsites. However, this information may be fragmented, scattered and unevaluated, resulting in no one having full knowledge of what has been learned about a particular problem and how it can be prevented in the future.
For years, paving technology companies like Topcon have witnessed the problems contractors face in the field and continually strive to find solutions to them. Unveiled to the public in early 2019, Topcon's Pavelink application hopes to be a one-stop solution-source for the asphalt industry. 
"Pavelink keeps track of a vast amount of information and that information is then divided amongst the stakeholders, whoever is running certain projects," Jan Mennink, product manager with Topcon says. "Pavelink is mostly about keeping everybody in sync and aware of what's going on from the beginning of the project to the end."
The Pavelink system automatically gathers and centralizes all relevant information that helps streamline operations from start to finish. 
asphalt mix quantities
temperatures
number of trucks loaded
current truck locations
job site arrival estimations,
number of trucks returning or queuing for more loads
current screed width
current paver speed
amount of roadway that has been laid
Making a Paving Plan
While this technology may be great for plant operators in the control room, it's much more difficult to get paving contractors on board when it comes to changing their daily operations. Topcon tried to create Pavelink in a way that adapts to how contractors work.
"There are systems out there in general, not just for paving applications, that are forcing the users to change their way of doing things too much and we're not trying to do that at all," Mennink says. "Instead of forcing people to work a certain way that accommodates the system best, we try to be flexible in the system to accommodate the way people work."
For contractors, this can be as simple as helping them to think about a job in advance, creating an awareness of issues that might occur. By entering a little bit more detail about job properties and planned paving speed, paving contractors are given a list of exactly how many trucks they need and when the truck need to start loading up to head to the job site.
"For companies that are used to planning jobs on a napkin, they can use Pavelink just as easy is as a company that has a as a sophisticated planning tool," he says. "We just basically input the planning information, either through application program interface (API) or by importing Excel sheets and then you can utilize the system."
Mennink says the system is also very flexible for handling the unforeseen contractors have to deal with on a jobsite.
"No job is going to go perfect typically. You can plan trucks to be arriving at an exact time, but things happen, machines can break down or there is unexpected traffic or an accident or something like that which causes backups to happen,"  Mennink says. "The Pavelink system is smart enough to recognize most of that. If material trucks are not appearing, the operator has a very easy way of knowing that, and he can slow down the paving speed to accommodate the delay. By being so dynamic, the system is very flexible — which is very natural for the people working with it."
This also helps in the opposite situation where there may be too many trucks and you need them to slow down or not arrive at all based on how the job is going.
 "If you know exactly when a truck needs to leave, a contractor only has to engage trucks when they need it," Mennink says. "So instead of having 30 or 40 trucks piling up already at the beginning of the day at the asphalt plant, contractors can order them in batches of five for instance, spread out over the first two hours, saving on trucking expenses."
This also helps improve the quality of the final project, Mennink says.
"For instance, contractors have incentives for the smoothness of a paving job," he says. "Some of the bumps that you get in the field are because the paver is stopping as the mix cools down. As they keep on going, that asphalt becomes hard and it's harder to process and that gives you a little bump. Every single bump results in in not getting to incentives, or sometimes you get a penalty for it.
"By preventing the paver from coming to a stop, you as a contractor save money, you get more money or you pay less in fines. By having that flow of asphalt matching the paving processing flow, that improves quality resulting in a smoother road with less temperature degradation because of cold stops."
As a result, the road will last longer as well – so it's also good for taxpayers and users in general.
Reports Create Proof of Job Completion
In the world in which we work, contractors need to be sure they have proof of what they've done. Unfortunately, there are usually multiple different places where contractors need to document these records and reports. From accounting to trucking, Pavelink was designed to help contractors keep track of every aspect of the job.
"For example, a contractor needs to pay for the trucks since they have typically hired on another company to deliver mix," Mennink says. "These invoices need to be validated and double checked. With Pavelink, you have that proof basically coming out of the system and you keep track of that throughout the day."
The system can tell contractors when the paver stopped paving and add notes in the system that can explain why which helps build a report on the fly.
"At the end of the day, you can go on the website and basically print out what is known to have happened on the job site," Mennink says. "You can then complete the information in any empty fields that have not come out of system, but you have the freedom to enter that information on an Excel sheet."
There is also an advanced system where Pavelink can receive data through an API.
"We can hook up with any system that contractors need or want in order to report on some aspect of the job site," Mennink says. "We have a few customers that actually have their own system for managing all kinds of aspects of a job site and they have their system talk to our database through API's to pull out the data they need to fulfill their reports in there."  
Pavelink currently has customers who are now in their fourth year with the system and are continuing to see success.
"When they start, they may have to change their structure a little bit to make things easier by understanding the data and looking at the statistics," Mennink says. "But typically, the tool changes from a nice gadget to have to a critical system. We have contractors that basically upped their profit margin window considerably because of their cost savings with this tool and they are actually able to bid lower and make the same amount of money as their competitors just by using the information in a smart way."