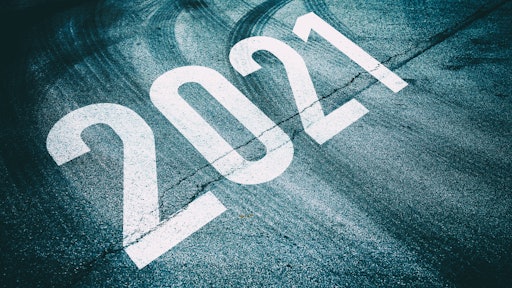 Adobe Stock/robsonphoto
With 2020 behind us, we are more than ready to move on to what we hope is a much brighter 2021. Luckily for the construction industry, experts are optimistic that 2021 will bring some positive news for our crumbling infrastructure. 
In our State of the Industry report last month, our experts were committed to being ready and willing to work with the Biden administration and leaders on both sides of the aisle to restore public health, revitalize our economy and help rebuild American lives and communities. Americans voted in historic numbers and many of them made it clear they wanted infrastructure to be a priority. 
Voters in 18 states approved a record-high 94 percent of transportation-related ballot measures across the country, including Arkansas, Michigan, Ohio, Texas and Washington. Transportation has traditionally been a bipartisan issue and one area where members of Congress can come together. Voters continue to show this at the ballot box and it's time for Washington to listen. 
Infrastructure Bill in 2021?
Looking ahead to the next administration, modernizing our infrastructure has broad support and can drive the growth and jobs we need now. If the Biden administration prioritizes something that can—and must—be done in a collaborative manner, it can set the tone for good governance on other priorities essential to rebuilding our economy. 
Experts believe that members of the 117th Congress and the President-elect heard loud and clear what the voters want. Voters want action to bring the pandemic under control, put people back to work, and keep our economy open while rebuilding communities and working together towards a stronger future for our country.
A key part of the legislative agenda in 2021 will be enactment of a multi-year surface transportation authorization bill before the FAST Act extension expires on September 30, 2021. Lawmakers know that investments in infrastructure get people quickly back to work and strengthen the economy and we expect to see significant increases in infrastructure investments that will positively impact the road building market.  
Luckily for the industry, Biden has made it very clear he is ready to work with Congress to deliver results for all Americans. He is planning bold investments in infrastructure that help everyone, from large metro areas dealing with unreliable transit and soon to be jam-packed highways, to rural communities that suffer from bridges in poor condition and deteriorating roads.
Biden's 'Build Back Better' plan has lofty goals to move our infrastructure into the 21st century while creating millions of family wage jobs, supporting U.S. manufacturing, and harnessing American engineering and ingenuity. Whether or not this administration can make them a reality is yet to be seen but if experts can be hopeful, then so can we. 
Happy New Year everyone and have a safe and healthy 2021. Contact me anytime with job stories, article ideas or just to say hello. You can reach me at jlombardo@acbusinessmedia.com.