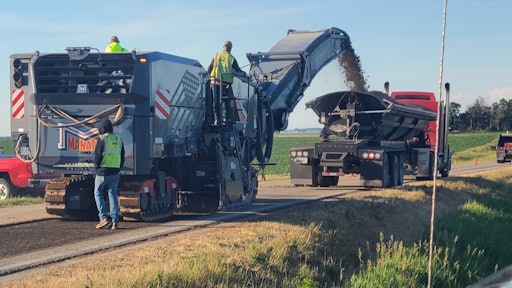 Colby Marchant/Facebook
June wasn't just a busy month for you out working on our roadways. Our lawmakers in Washington were trying to come to some agreement on a massive infrastructure bill. President Joe Biden and a bipartisan group of senators — five Democrats, five Republicans — announced June 24th that they had finally reached a compromise on part of it: a $1.2 trillion framework to fund roads, electric-vehicle charging stations, broadband and other physical infrastructure. The pared-down plan calls for $559 billion in new spending over five years, which includes $110 billion invested in roads, bridges and other major projects. 
In the wake of the announcement, the Dow rose 0.88%, to 34,172, the S&P 500 rose 0.59% and the Nasdaq was up 0.72%. Meanwhile, shares in top industry manufacturers and suppliers like Caterpillar and Vulcan Materials rose last week at the promise of a funding boon. Shares of California-based Granite Construction also shot up nearly 9% at the promise of funding for our crumbling infrastructure.
While the immediate boost is great, Peter Williams, an economist at the investment firm Evercore ISI, said the infrastructure package will really begin boosting economic growth starting in 2023, as it takes time for major building and repair projects to get under way. But in 2025 and 2026 the extra package would add a healthy one percentage point to the economy's growth rate, Williams estimates, and create up to about 775,000 jobs. 
The House of Representatives voted on Thursday to approve a $715 billion transportation and water infrastructure bill focused on improving and repairing roads, bridges, transit and rail, and ensuring clean drinking water. According to The Hill,  the INVEST in America Act authorizes $343 billion for roads, bridges and safety measures, $109 billion for transit, $95 billion for passenger and freight rail, $117 billion for drinking water infrastructure resources and roughly $51 billion for wastewater infrastructure, according to a fact sheet on the bill.
The measure would also reauthorize surface transportation programs that are set to expire on Sept. 30, as well as invest in Democratic priorities like promoting electric vehicles, strengthening drinking water standards and making utilities more durable against the impact of climate change. Republicans and some segments of the industry had mixed reviews on this bill. Read more about that below. 
In more Washington news, the Senate passed the "Endless Frontier Act" (S. 1260). This largely umbrella bill was assembled by Majority Leader Charles Schumer (D-NJ) to address many economic competitiveness issues, particularly with China. Unfortunately, the bill also includes a comprehensive overhaul of "Buy America" rules from the Homeland Security and Governmental Affairs that would require a wide variety of "construction materials" such as asphalt cement, binder, stone and gravel used in federally funded projects to be made in America. While the industry supports utilizing American labor and materials, when possible, these provisions would make it much more difficult for the construction industry to use basic construction materials not sourced in the USA.
We're going to keep tracking this bill and will report back how it could impact the industry. 
Sixty-five years ago on June 29th 1956, President Dwight Eisenhower signed the law authorizing the Interstate Highway System and creating the Highway Trust Fund to finance its construction from his hospital room at Walter Reed Medical Center.  The development of the 48,000-mile Interstate Highway System (IHS) has been a driving factor in a 340 percent growth in the nation's gross domestic product over the past 65 years from $3 trillion to today's $19 trillion.
As the U.S. Interstate Highway System reaches 65 years old, it is congested, carries significant levels of travel – particularly by large trucks – and lacks adequate funding to make needed repairs and improvements a new report said. America's most critical transportation link will need to be rebuilt and expanded to meet the nation's growing transportation needs.
Finally, we look at the collapse of Miami's Champlain Towers South Condo Building. Here at ForConstructionPros.com we're combing through all the information we can in order to bring you a full view of the story, all in one spot. 
Updated July 1:  18 confirmed dead; No definitive cause has been identified.