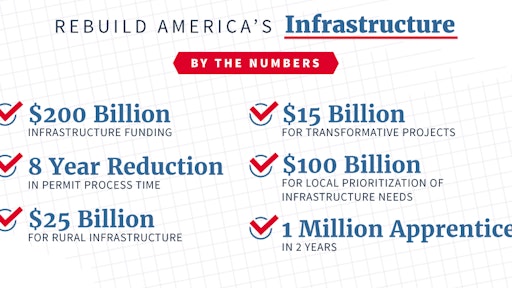 The White House offered new details Thursday about how it plans to divvy up the money in President Trump's $1 trillion infrastructure package.
Officials have long said that the proposal will inject $200 billion into the country's infrastructure, but will spur an additional $800 billion in investment through public-private partnerships and regulatory reforms.
In a fact sheet posted online, the White House broke down how those federal dollars will be allocated: $100 billion to let states and local entities prioritize their own infrastructure needs, $25 billion to grants for rural infrastructure projects, and $15 billion to incentivize "transformative" projects.
The summary doesn't indicate where the rest of the money would go. But a separate fact sheet released earlier in the week identified a fourth category: loans for regionally or nationally significant projects under an existing federal financing program.
The administration also outlined a "skill-based" workforce education initiative, with the goal of training 1 million apprentices over two years.
More from The HIll.
![]