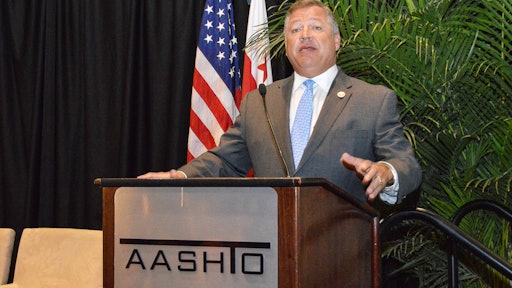 AASHTO
Rep. Bill Shuster (R-Pa.), the chairman of the House Transportation and Infrastructure Committee, released a draft of a long-awaited infrastructure plan on Monday that addresses possible funding sources for a number of potential projects, and levies taxes on multiple fuel sources.
The bill calls for significant federal investment in infrastructure projects and grant programs through at least 2021. It includes billions of dollars in grant funding, as well as trillions in appropriations for projects of national significance, though the numbers — along with the rest of the proposal — are subject to change.
To provide at least partial funding, the draft calls for a 15-cent-per-gallon tax on gasoline and a 20-cent-per-gallon tax on diesel. The increases would be phased in over a 3-year period. At that point, the fees would be indexed to inflation before they are ultimately eliminated in September 2028. 
Shuster's plan includes "corresponding increases in similar user fees on alternative fuels," such as a 10 percent tax on the wholesale price of bicycle tires on adult bikes, as well as a 10 percent tax on the price of electric car batteries.
President Trump previously voiced support for using a gas tax hike to pay for infrastructure projects. While Trump said in February that he'd favor a 25-cent increase, Shuster's plan only calls for a 15-cent boost.
The draft also calls for the secretary of Transportation to award grants for national infrastructure projects, with 30 percent of the money allotted toward projects in rural areas.
The proposal also aims to reform the Highway Trust Fund to keep it solvent. The bill would establish a Highway Trust Fund Commission, consisting of 15 members. The group would conduct a study on the nation's highway system and submit a report on its findings by Jan. 15, 2021.
Shuster said in a statement that the proposal was crafted using input from both Democrats and Republicans, as well as "a broad group of infrastructure stakeholders."
"This discussion draft does not represent a complete and final infrastructure bill. It is meant to reignite discussions amongst my colleagues, and I urge all Members to be open-minded and willing to work together in considering real solutions that will give America the modern day infrastructure it needs," Shuster said. "Over the coming weeks and months, I look forward to additional input from my Republican and Democratic colleagues in order to prepare a bill for congressional consideration."
Trump has long touted his desire to pass a comprehensive infrastructure bill; however, those plans have stalled at various points.