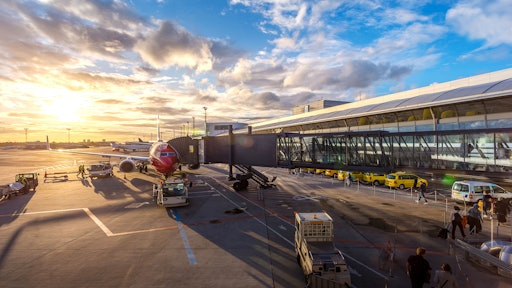 Tanathip Rattanatum/Pexels
The American Concrete Pavement Association (ACPA) President & CEO Gerald Voigt, P.E., National Asphalt Pavement Association (NAPA) President & CEO Audrey Copeland, Ph.D., P.E., and Portland Cement Association (PCA) President & CEO Michael Ireland released the following joint statement today, welcoming the inclusion of funding for increased airfield pavement research in S. 2520 and H.R. 3055 (Division E) appropriations bills for fiscal year 2020. The House passed H.R. 3055 in June, and the Senate will consider S. 2520 as it works through the appropriations process over the coming weeks.
The legislation, which does not include pavement-type selection or pavement design mandates, funds next year's Federal-Aid Highway Program and the Federal Aviation Administration's Airport Improvement Program (AIP). Although the bill freezes the AIP program at $3.35 billion, it appropriates $450 million from the general fund for airport competitive grants and specifically recommends $3 million for asphalt airfield pavement research. Additionally, the bill appropriates the full $46.3 billion obligation on federal-aid highways, plus $2.7 billion in discretionary appropriations for highway programs.
In a joint statement, the three CEOs indicated the importance of this bill to our industries:
"ACPA, NAPA and PCA are pleased Congress is set to fund sorely needed airfield pavement research as part of the FY2020 transportation appropriations process. Investing in research and supporting the deployment of innovations that benefit the American public is a fundamental responsibility of the federal government, and we applaud both the House and Senate for advancing bills that bring new money to the table.
"As the bills head toward reconciliation, we urge lawmakers to look at the success of the Accelerated Implementation and Deployment of Pavement Technologies (AID-PT) program. By specifically focusing research funding on asphalt and concrete pavements, AID-PT has helped to speed the deployment of innovative, sustainable, and high performing technologies and practices. The Senate transportation appropriations bill takes a similar approach to funding airfield pavement research.
"As the appropriations process advances, we encourage lawmakers to take the successful AID-PT model and to dedicate research funding in an equal manner across asphalt and concrete pavements for airfields."
Airport Investment Good for the Economy
"Infrastructure projects funded by these grants will advance safety, improve travel, generate jobs and provide other economic benefits for local communities," said U.S. Transportation Secretary Elaine Chao.
Selected projects include runway reconstruction and rehabilitation, construction of firefighting facilities, noise mitigation, emissions reduction, and the maintenance of taxiways, aprons, and terminals. The construction and equipment supported by this funding increase the airports' safety, emergency response capabilities, and capacity, and could support further economic growth and development within each airport's region.
Airport infrastructure in the United States, with 3,332 airports and 5,000 paved runways, supports our economic competitiveness and improves quality of life. According to the FAA's most recent economic analysis, U.S. civil aviation accounts for $1.6 trillion in total economic activity and supports nearly 11 million jobs. Under Secretary Chao's leadership, the Department is delivering AIP investments for the American people, who depend on reliable infrastructure.
The U.S. DOT will award $986 million in airport infrastructure grants to 354 airports.This marks the fifth allotment of the total $3.18 billion in Federal Aviation Administration (FAA) AIP funding for U.S. airports
Click here for a bill summary and to learn the next steps in the appropriations process.