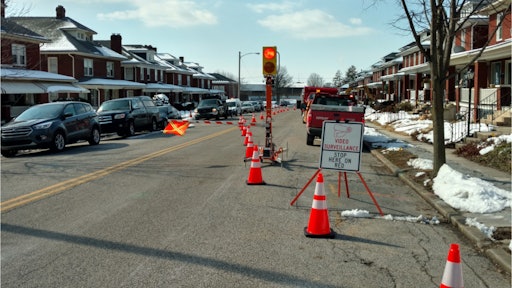 Roadside workers are exposed and vulnerable to fast moving vehicles when they are trying to do their jobs and most work zone fatalities and injuries can be attributed to speeding. In 2017 alone, nearly 800 people were killed and 38,900 injured in work zone-related vehicle crashes. Studies show speed enforcement in work zones is effective at reducing speed, but only when it is carried out by a law enforcement officer, which also puts them at risk.
This is why nine industry organizations have come together to urge the allowance of federal funding at the state level to implement automated speed enforcement in work zones. The nine groups wrote a letter to Congressional leaders last month urging them to allow federal funds to be used for automated enforcement in work zones.
"Implementing automated enforcement systems in work zones is successful in reducing speed, aggressive driving, fatalities and injuries," the letter states. "For example, in Maryland the implementation of automated enforcement in work zones resulted in an 80% reduction in speeding violations and fatalities have also dripped by half since the program's inception."
The letter went on to say that many states lacked the resources to implement this type of technology and the use of federal funds to support this life-saving technology would demonstrate safety leadership by Congress.
Currently, no highway safety improvement program or HSIP funds may be used for automated enforcement activity, according to federal statute, as section 1401 of the Fixing America's Surface Transportation or FAST Act states: "HSIP funds may not be used for any program to purchase, operate, or maintain an automated traffic enforcement system; i.e., any camera that captures an image of a vehicle for the purposes of traffic law enforcement."
Section 402 grants provided by the National Highway Safety Traffic Administration also cannot be used for automated enforcement purposes: "No 402 funds can be spent on the implementation of automated enforcement programs," according to that statute.
"We hope you will support states that want to use this technology to protect workers and law enforcement officers by allowing federal funds to be used for automated enforcement in work zones," the letter concluded.
Pennsylvania
Announces Start of Automated Work Zone Speed Enforcement Pre-Enforcement Period
The Pennsylvania Department of Transportation (PennDOT) and the Pennsylvania Turnpike Commission (PTC) announced that the required 60-day pre-enforcement period for the statewide Automated Work Zone Speed Enforcement (AWZSE) program has begun and will last until March 4, 2020. Pennsylvania's AWZSE program uses vehicle-mounted systems to detect and record motorists exceeding posted work zone speed limits using electronic speed timing devices.
The AWZSE program was established by the Pennsylvania General Assembly in Act 86 of 2018. During the pre-enforcement period, automated speed enforcement units will be deployed in active work zones, but violations will not be issued. Work zones are selected to maximize the effectiveness of the systems and will be marked with signage in advance of the enforcement area. Additionally, locations are posted on the project website, WorkZoneCameras.PennDOT.gov.
"It's important to remember that the Automated Work Zone Speed Enforcement program isn't about issuing violations, it's about saving lives," said acting PennDOT Secretary Yassmin Gramian. "The goal is to encourage motorists to slow down in work zones, change their behavior, and ultimately improve safety for both motorists and workers."
AWZSE systems are only operational in active work zones where workers are present. Once enforcement begins on March 4, registered owners will receive a warning letter for a first offense, a violation notice and $75 fine for a second offense, and a violation notice and $150 fine for third and subsequent offenses. These violations are civil penalties only; no points will be assessed to driver's licenses.
"When a crash occurs in an active work zone, it's just as likely to result in death or injury to a driver or passenger inside that vehicle," said PA Turnpike CEO Mark Compton. "This program is about protecting everybody's safety. If not for these workers in an active work zone, I ask you to slow down for yourself and other travelers."
In 2018, there were 1,804 work zone crashes in Pennsylvania, resulting in 23 fatalities, and 43 percent of work zone crashes resulted in fatalities and/or injuries. Since 1970, PennDOT has lost 89 workers in the line of duty. The PA Turnpike has lost 45 workers since 1945.