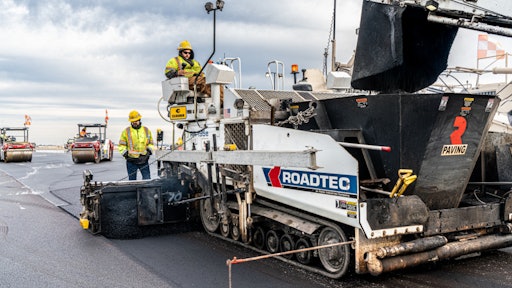 President Donald Trump followed up his State of Union address call for dramatic increases in direct federal infrastructure investment with a FY 2021 budget plan that displays his vision for how those resource should be deployed.
The 138-page proposed fiscal year 2021 budget issued by the Trump's administration on February 10 proposes to reauthorize surface transportation funding to the tune of $810 billion over the next decade, along with an additional one-time payment of $190 billion in one-time infrastructure spending primarily focused on surface transportation investments.     
That would add up to over $1 trillion in direct federal transportation and infrastructure funding between 2021 and 2030 represents a "distinct departure" from the administration's 2018 outline, which sought to leverage $200 billion of direct federal funding into $1 trillion in overall investment with state/local and private contributions.
On page 81 of the plan, the Trump administration says:  "The Budget proposes a 10-year reauthorization of surface transportation programs, including $755 billion in mandatory spending from the Highway Trust Fund (HTF) and $55 billion in authorizations of discretionary budget authority from the General Fund. Combined with the Administration's separate proposal on investing an additional $190 billion in infrastructure across multiple sectors, including transportation, the Budget provides $1 trillion in direct federal investment in infrastructure."
What's Next for Infrastructure?
An analysis of the budget proposal by American Association of State Highway and Transportation Officials policy staff noted that such fiscal proposals by the White House represent "the traditional first step" in budget negotiations with Congress towards final FY 2021 appropriations measures.
The release of the Trump administration's budget proposal is significant for multiple reasons. First, an administration's budget being sent to Congress marks the formal beginning of the annual budget and appropriations process, in this case applying to Fiscal Year 2021, which begins Oct. 1.
Second, the administration's budget means it has joined the House and Senate leadership in going on record, at least in part, for moving forward this year with a robust surface transportation program reauthorization bill. The Senate Environment & Public Works Committee passed its portion of the legislation last year. Senate Majority Leader Mitch McConnell (R-KY) has signaled he would like to pass a full bill this spring, a goal which will require other Senate committees to complete their work on other portions of that bill. The House infrastructure framework put forth a timeline for action throughout the spring on the various pieces of legislation, including a surface bill.     
The bill is also important as it discusses the reauthorization of the Highway Trust Fund which expires this year. The FAST Act authorized contract authority and discretionary budget authority for highway, transit, rail and hazardous material programs through 2020.
Critics hit the White House for proposing only $200 billion in federal spending on infrastructure last year while slashing funds for the Highway Trust Fund, which currently pays for many infrastructure projects. This year, the fund is left fully intact. 
The FY2021 Budget does propose to reauthorize all modes included in the FAST Act and proposes to end the recent practice of appropriating additional discretionary budget authority for the highway and transit formula programs and instead reflect that funding through higher contract authority levels provided from the HTF.
Rather than relying on General Fund (GF) revenues to supplement the HTF-supported programs, the administration's budget calls for new HTF spending for these initiatives. While this may seem like a procedural nuance, ARTBA says it further reinforces the administration's shift to embracing some form of a trust fund revenue solution. On that front, however, expectations of a bipartisan deal are lukewarm.   
In total, the Budget proposes an 8 percent increase in 2021 for highway and transit formula programs from the level provided in the last year of the FAST Act. The Budget also provides for a 3.8 percent increase to the National Highway Traffic Safety Administration (NHTSA) and the Federal Motor Carrier Safety Administration (FMCSA) from the level provided in the last year of the FAST Act.    
Continued Promise to Reduce Permitting
Since Trump began his presidency, he has expressed the need to speed up the permitting process for infrastructure projects. During his 2019 State of the Union address, Trump said any infrastructure plan that he would sign would  also be paired with significant permit reform in an effort to reduce regulatory roadblocks and bring down the length of the construction approval process saying "America is a nation of builders. We built the Empire State Building in a year. Isn't a disgrace that it can now take 10 years to get a minor permit approved for the building of a simple road?"
As part of the FY2021 Budget, the Trump Administration also promises to streamline inefficiencies in our government. In terms of infrastructure permitting, the Budget plan says: "Major infrastructure projects are vital to American competitiveness and long-term economic growth, but the environmental review and permitting process has for too long been opaque, overly complex and unpredictable for businesses and State and local partners," the proposal says. "The Administration has instituted a new integrated, cross-agency approach to increase transparency, accountability, and efficiency for all stakeholders, resulting in over $1 billion in cost savings through avoided permitting delays."