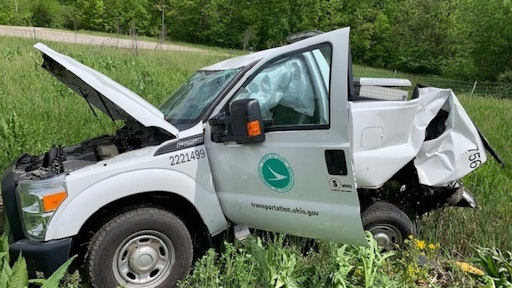 Ohio Department of Transportation North Central Ohio District 3/Facebook
The Coronavirus pandemic has cleared U.S. roads as many people across the country simply have no where to go.
In some cities across the nation, this has been a good thing for road work. More people working, studying and staying at home during the pandemic means fewer cars on the road and fewer drivers inconvenienced by closed roads and detours. In major cities like Los Angeles where traffic dropped 60%, workers are able to shut down streets all at once, rather than in segments over time. 
Other major cities are able to do the same. 
"It's a lot easier to do any kind of work in the street right now because the traffic volumes are a little lower," Milwaukee Department of Public Works Commissioner Jeff Polenske said.
The Department of Transportation said reduced traffic volume could help major projects finish faster, saving the city time and money.
In Florida, the Florida Department of Transportation (FDOT) announced they would be speeding up several critical infrastructure projects, including the I-395 project and its Signature Bridge in the heart of downtown Miami. The goal was to advance the project by one month and this week the FDOT reports that goal has been achieved.
Road Crews Not Any Safer
While the acceleration up of road construction and repair is great for cities and projects, it may not be better for workers. Many believe roadways are safer for workers during this time of less traffic but states are seeing the opposite.
Minnesota and Louisiana recorded more traffic fatalities during the coronavirus crisis than in the same periods of past years, even though there were far fewer drivers on the road because of stay-at-home orders. In states including Missouri, fatality rates increased even as total crash deaths declined, according to state officials.

Ohio Department of Transportation North Central Ohio District 3/Facebook

State highway officials are reporting a "severe spike in speeding" during the pandemic, crews across the nation are finding it's actually less safe for workers out there right now.
Emptier streets and highways have resulted in a "significant surge" in reports of drivers reaching speeds of 100 mph or more in major cities and even the less populated ones, the Governors Highway Safety Association (GHSA) said.
How can we keep workers safe when drivers are reckless?
States Reinforcing Safety
In Ohio, the Ohio DOT (ODOT) took to Facebook to plead with the public after they experienced their 12th work zone crash since February.
A tractor-trailer crashed into the back of a moving ODOT truck that was towing an active lane change sign on US 30 west.
The woman inside the pickup was injured and was taken to a Columbus hospital. The semi driver was uninjured.
"Yet another reminder to SLOW DOWN AND MOVE OVER when going through a work zone," the Facebook post says. "Our people want to go home to their families every night, PLEASE pay attentions in work zones."
In Indiana, workers have over 1,100 projects to complete this year but are weary about being able to complete them. 
"It's something we're hearing from the Indiana State Police and other agencies that people are just driving way too fast because there are fewer people out on the roadways," Debbie Calder, communications director for the Indiana DOT said.
In light of this, Calder said no matter where the construction work is happening what work they are doing, everyone needs to be careful.
"Please obey the rules of the roadway the speed limits definitely and in work zones, we'll have reduced speed limits so pay attention to the signs," she said.
She said it's a matter of life and death.
"Be very mindful of that. Please, watch for those signs, orange barrels, slow down pay attention, and get your self safely through those construction zones and our work zones," she said. "You can get to your destination safely and our workers can get home safely as well."