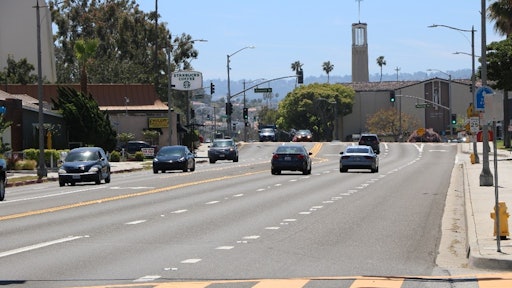 VSS International | Jeff Roberts
The International Road Federation (IRF) has announced that the "Pacific Coast Highway – South Los Angeles" Project performed for Caltrans by VSS International, Inc. of West Sacramento, CA, has won the 2020 Global Road Achievement Award (GRAA) in the category of "Asset Preservation & Maintenance Management." The award was presented to VSS International, Inc. on November 13th at the 2020 IRF Global R2T Conference.
This award-winning section of the Pacific Coast Highway stretched 22 miles from Seal Beach north to Artesia Boulevard in Los Angeles County consisting of over 130 lane miles. Located in the heart of south Los Angeles County with a surrounding population of almost 10 million people, this roadway functions as one of the most heavily traveled routes in the area with approximately 80,000 vehicles per day, serving the Port of Long Beach and many local commercial districts.
With a final contract value if $5,617,120.00 this contract required nighttime placement of approximately 8 million square feet of engineered slurry seal under intense working conditions. All work was performed between 9 p.m. and 6 a.m. with all lanes open to traffic by 6 a.m. every day.
The International Road Federation's awards program is recognized around the globe as a prestigious industry accolade and serve as a reminder to a much wider audience that the mobility everyone takes for granted would not be possible without the talent and commitment of our global road building industry. By winning this award, VSS International, Inc. and Caltrans have joined an elite group of GRAA winners whose exemplary projects have been recognized by their peers for their excellence, innovation, and societal impacts while projects like the PCH project serve as a model of inspiration for others in the road and transport sector.