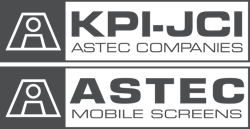 Kolberg-Pioneer, Inc. (KPI-JCI) iannounces the addition of Gary Fisher to the company's engineering team as a Structural Design Engineer.
Fisher will work with Project Designer Steve Anderson and the Washing product line design group as the product line transitions into a new product line involving fines recovery and dewatering screen technology.
Fisher earned his Bachelor's degree in civil engineering from South Dakota State University in Brookings, S.D. Previously, he worked as a structural engineering intern at Barker Drotter and Associates in Las Vegas, Nev. Most recently, he worked as a staff engineer at Engineering & Technical Services in Tea, S.D.
Fisher said he was eager to delve into his new projects at the company.
"I am excited to work with such a professional and welcoming company," he said. "So far, I have had nothing but great experiences here at Kolberg-Pioneer, and I'm looking forward to helping the Washing product line make its transition to include a wider product offering."
To contact Gary Fisher, e-mail him at GaryFisher@kolbergpioneer.com. To learn more about KPI-JCI and Astec Mobile Screens, visit www.kpijci.com. 
Companies in this article