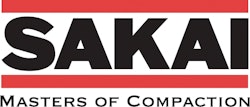 Sakai America is happy to announce its recent partnership with Rexco Equipment, Inc. The two organizations have teamed up, in order to answer the compaction needs of customers all across the state of Iowa. The appointment of Rexco Equipment, Inc. as an authorized Sakai dealer for the state of Iowa is effective immediately.
As a full line Sakai Dealer, Rexco Equipment, Inc. offers its customers the entire Sakai lineup including Soil Rollers, Asphalt Rollers, and Light Compaction Equipment.
Rexco Equipment, Inc. celebrates its 50 Year Anniversary this year. The original dealership was started by Rex Smith, Sr. and his wife Mildred in 1964. When Rexco Equipment first opened its doors, it covered 26 counties in eastern Iowa. Strong core values and a persistent legacy of earning customer trust, have enabled the company to add more locations in Iowa, giving the company strong coverage across the entire state. The company also went on to add a location in Nebraska, as well as dedicated compact equipment facilities in Iowa.
Rexco Equipment, Inc. carries and supports the entire Sakai line from its locations in Cedar Rapids, Des Moines, and Davenport.
Several high quality product lines are already represented across Iowa, by Rexco Equipment. In fact, Rexco Equipment, Inc. is the oldest Link-Belt crane and excavator dealer in the United States.
Sakai's full lineup of rollers and compaction equipment is available for customers in Iowa for rental, as well as for sale.
And as a 50 year legacy of service would attest, customers can count on Rexco Equipment, Inc. to have the parts and service knowledge on-site, ready to support their needs, all across the Hawkeye State.
Denver Weinstiger, Vice President Sales and Support for Sakai America noted, "Rexco Equipment is a very impressive operation that truly knows how to take care of its customers. The entire Sakai America organization congratulates Rexco Equipment on their fifty year anniversary. We are very happy to work with everyone at Rexco to grow our business across the state of Iowa."
David Koerkenmeier, Midwest District Manager for Sakai America remarked, "With a strong dedication to taking care of its customers, as well as its service-oriented commitment that guide the organization, it is no wonder that Rexco Equipment has such a strong reputation all across Iowa. We are extremely happy to have them onboard as our dealer."
Tom Nugent, President of Rexco Equipment, Inc. states, "Rexco Equipment has achieved a strong legacy over the years by supporting our customers with solid product lines, parts support and service. Sakai rollers are known for their reliability, innovative design, and value. We demand the very best for our customers, so we're happy to represent the full line of Sakai rollers."