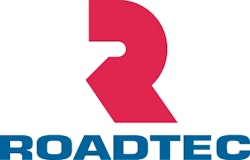 Roadtec announced a new development to the Guardian Telematics System at World of Asphalt 2015. Since Guardian was first rolled out three years ago, it has been focused on up time and diagnostics.
This functionality has evolved and been to now include production reporting. This technology is available on the RX-600, RX-700 and RX-900 milling machines right now and will be coming to pavers very soon. Guardian Production will allow our customers to see in real time or at the end of a day what their production is on that machine. Guardian also shows the operator the exact amount of material they are loading into the truck in front of them eliminating overloaded or underloaded trucks. This saves the customer money in fines or poor truck utilization.
Also available on the milling machines, Roadtec provides the customer the ability to track cutter bit consumption. When customers replace bits, they can simply enter in the number and track it. All of this will give customers more visibility into how they are using their equipment and allow them to maximize their efficiency.