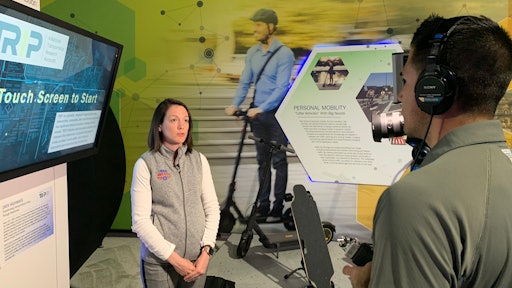 "Transportation by the Numbers," is a new interactive touch-screen map exhibit that gave thousands of CONEXPO-CON/AGG attendees an opportunity to learn about the health of their state's transportation infrastructure. The map portrayed data for all 50 states and gaves participants insights into their state's road and pavement conditions, vehicle operating costs (VOC) and traffic fatality rates, including the number of annual fatalities in each state every year.
"TRIP was excited to be part of AEM's award-winning Tech Experience at CONEXPO-CON/AGG 2020," said Dave Kearby, executive director for TRIP. "The data highlighted in the interactive map shows our current transportation infrastructure can't keep up with the expected growth in the future. We're thankful for AEM's leadership in helping us personalize this message to construction professionals through cutting-edge technology."
Visitors to the AEM Tech Experience are encouraged to use the data from the TRIP exhibit to further educate decision makers regarding the importance of sound, adequately-funded transportation policy at the local, state and federal levels. 
"We are thrilled to partner with TRIP on this engaging, educational exhibit at this year's CONEXPO-CON/AGG," said Kate Fox Wood, director of government relations at AEM. "With the upcoming expiration of the federal highway program, 2020 is an important year for the transportation industry and it's critical for construction professionals to stay informed and engaged on the issues and policies that will impact the way we move products and people to meet tomorrow's demands."