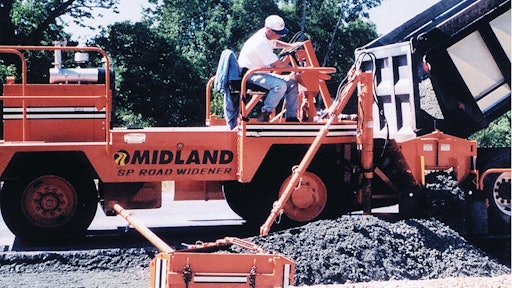 Midland Millennium Road Wideners
Millennium single- and double-sided self-propelled road wideners are available in 8- and 10-ft. paving widths.
Curved spreader blade sections
High mast for improved stability
Adjustable outside edger plate
Dual-direction roller chain allows discharge direction to be changed without reconfiguring the conveyor system
2-ft. hydraulic cylinder extension and 1-ft. blade extension
Flexible inside edger plate
PRE13749
Midland Millennium Road Wideners
Midland has upgraded and added many features to its original line of Millennium Road Wideners and widener attachments. Some of these improvements include curved spreader blade sections for added strength and smoother finishes during placement of material, a high mast for improved stability, and an adjustable outside edger plate. Midland has also added a dual-direction roller chain, two-foot hydraulic cylinder extension and one-foot blade extension, a bigger, heavy-duty axle, and additional bracing.
Request More Information
Fill out the form below to request more information about
Millennium road wideners