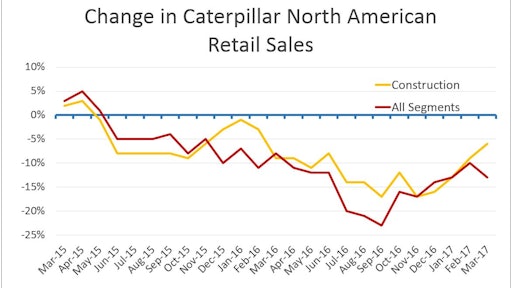 ForConstructionPros.com
After more than 50 months of retail sales declines, the three-month moving average of Caterpillar's global retail sales broke into positive territory, growing 1% in March.
Caterpillar's North American sales continue to struggle, but losses have dwindling since fall 2016.
The company's big recovery story has been in Asia, where sales began to grow mid last year, and turned remarkable 46% growth in March. Resource-Industry's Asian sales contributed to the recovery, but Construction-Industries Asian sales leaped more than 50% in the past two months.
The company's Construction Industries division showed 7% global sales growth based entirely on the Asian market's recovery (Construction-Industries sales in all other regions continues to fall).
[DOCUMENT] Caterpillar Inc. Rolling 3 Month Retail Sales Statistics