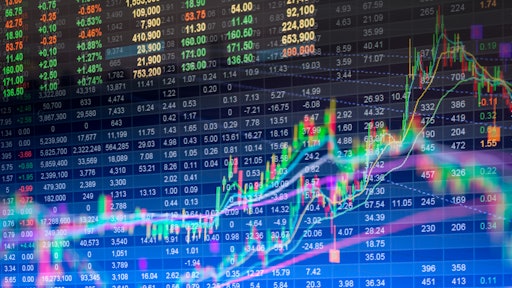 U.S. stocks traded choppily and then sold off Tuesday morning after the Federal Reserve slashed the benchmark U.S. interest rate by half a percentage point (to 1.25%), the biggest one-time reduction since shortly after the collapse of Lehman Brothers in 2008.
Leaders of the U.S. central bank said Tuesday's move, by unanimous vote, was done to protect the U.S. economy and financial markets as the coronavirus outbreak spreads.
Earlier, stocks had opened lower after Group of Seven policymakers released a statement with few specific details about their efforts to address the coronavirus outbreak, disappointing investors seeking a concrete, coordinated global response.
After Powell spoke, the Dow rose 300 points and then fell sharply into the red, down more than 750 points 2.8% by 2 p.m. Eastern time. The Nasdaq was down 320 points or 3.6% and the S&P was down more than 100 points or 3.4%.
But by about 1 p.m. Eastern time, shares of major homebuilders had spiked, according to The Street. Shares of Lennar (LEN) rose 4.8% to $65.62, PulteGroup (PHM) rose 3.3% to $42.91, D.R. Horton (DHI) was gaining 3.33% to $56.66, KB Home (KBH) rose 3% to $35.31 and Toll Brothers (TOL) gained 1.6% to $39.35.
Mortgage rates have plummeted since the beginning of the year to the lowest average since 2016 as a result of market responses to the coronavirus. MarketWatch suggests that the Fed's surprise rate cut may not reduce mortgage rates.
Mike Loewengart, vice president of investment strategy for E-Trade Financial, told Yahoo Finance, "Make no mistake this is a big deal—it's a move that's only happened about a half dozen times, and all during extremely perilous market conditions, which raises the question of if today's market is similar. I don't think many market observers would say we're in conditions like we were in 2008, so the Fed's move is certainly eyebrow-raising, albeit welcomed. To be sure, the Fed can't stop the virus, or fix broken supply chains, but as Powell said they have tools in their tool chest and they will use them when necessary. And if today is any indication, they mean business."
Economists have warned that growth this year is widely expected to slow sharply and some countries could fall into a recession if the situation isn't resolved soon, reports the Washington Post. Goldman Sachs downgraded the U.S. growth forecast to an annualized rate of 0.9% in the first quarter and 0% in the second quarter (April through June). Congress is preparing a $7.5 billion emergency funding package to help with the costs of fighting the epidemic.
The highly unusual Fed action comes on the heels of other central banks around the world lowering their interest rates and calls by President Trump for a "big" rate cut.
President Trump demanded "more easing and cutting" after the announcement, but Treasury Secretary Steven Mnuchin applauded the Fed for doing "the right thing getting ahead of this." Mnuchin also said Tuesday that the White House could consider an infrastructure package, tax cuts, regulatory relief for banks, and other steps if they felt it was necessary to help the economy.