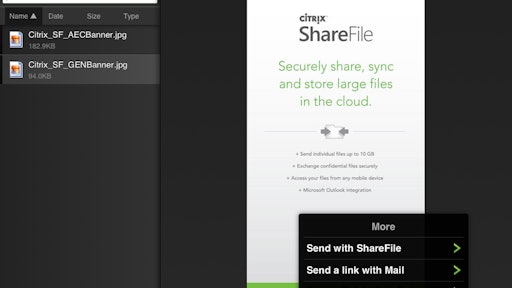 Mobile App: Citrix ShareFile
Developer: Citrix
Cost: Free (must have a ShareFile account)
Available on: Apple, Android, Blackberry and Windows
Average ratings: 4.7 on Google Play; 4.5 on Apple App Store
With ShareFile by Citrix, users can share and transfer files. The app also allows a user to store, access and manage files and folders from anywhere with any device. ShareFile allows for a collaborative environment. Users can browse, download and view documents, request and send files via email or the ShareFile cloud and sync files and folders on all devices. Typical contractor use includes storing and sharing files for project estimation and project management.
With ShareFile, users no longer have to worry about transferring large files because there is no limit to the size of files that can be transferred. Files can be sent to multiple people, and security measures can be put in place restricting download access (how long the file is available for download) and downloads per use (how many times a recipient can download a file). The ShareFile admin user can also track sends and opens for files as well as view upload and download activity for files in folders.
A new mobile editing tool allows the app user to download, edit and push a file right back into the shared folder.
While the admin user needs a ShareFile account to use the app, any recipients of files the user sends do not need to register for ShareFile in order to receive and access files.