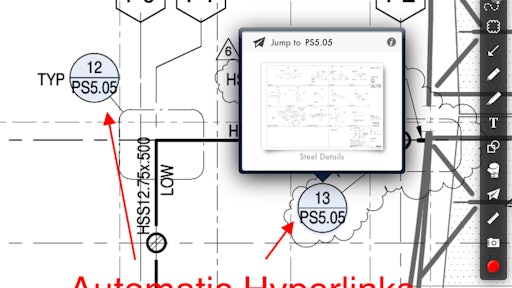 Mobile app: PlanGrid
Developer: Loupe, Inc.
Cost: Free
Available on: iPhone and iPad (Android version in the works)
Average Ratings: 5 stars
The PlanGrid mobile app allows contractors and architects to collaborate and share project plans, specs and photos using the iPhone and iPad. The app was designed to help the construction industry move away from using printed paper plans. PlanGrid users can upload PDF drawings to plangrid.com and automatically sync to all team members in real time. Users can also share markups with everyone on the project.
How-to Videos for the PlanGrid mobile app
First launched in March 2012, PlanGrid CEO Ryan Sutton-Gee says over 100,000 people have downloaded the app. The newest update was done on July 3, 2013, to version 3.1. The new version allows contractors to update a cloud-based rolling punchlist while on the jobsite even without Internet connectivity. The update also included an automatic hyperlinking feature which uses machine learning to figure out which plans uploaded to the app are related and create links between them.
The cost of the app is free, and users can upload up to 50 sheets for free. Once a user needs to upload more than 50 sheets they will need to pay a subscription fee which is based on a per month per person using the app basis.
Of the many features the app has to offer, Sutton-Gee says the most important are the ease of use and improved communication the app offers. Sutton-Gee says the app makes it fast and easy to view and distribute plans. Plus, PlanGrid uses only one master set of plans – hosted on the cloud – so everyone can view the same master plan as well as any changes or edits that are made to that master set. No longer will contractors or subcontractors have to worry about working off outdated plans. Finally, the ability to access these plans electronically empowers the field crew to communicate and participate and improve productivity, Sutton-Gee adds.
The three biggest benefits PlanGrid offers is paper costs savings, time savings and reduction in rework. According to a case study conducted by PlanGrid, users can achieve times savings up to 25% of the work week on average. Plus, contractors will save the money it would have cost to print paper plans. And since there's only one set of master plans, PlanGrid makes it impossible to have old information available reducing the chance of building from outdated plans and creating rework, Sutton-Gee adds.
PlanGrid Case Study - NEA Baptist Hospital
App features:
Automatic leaf-in and versioning of new plan revisions
Offline access of plans for sites without Wifi
Automatic hyperlinking of all detail callouts
Cloud-based annotations
Automatic punchlists that sync and become searchable
Quick field takeoff and estimating tools
Filter drawings by system, revision or however you'd like
Take progress photos and pin them to blueprints
Automatic uploading and tracking of progress photos
Sort by status on punchlist log
Edit punchlists directly from punchlist log
Swipe up and down to access old versions of sheets