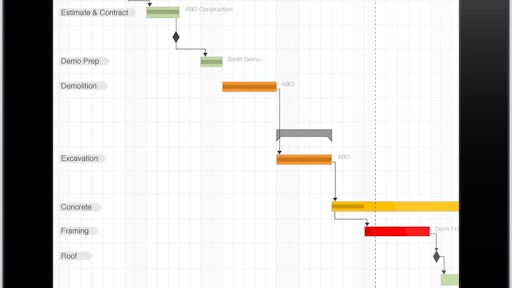 Mobile app: Smartsheet
Developer:  Smartsheet
Cost: Free
Available on: Apple and Android devices
The Smartsheet mobile app is designed to allow users to access and update project details as well as collaborate with team members from their mobile devices. Smartsheet allows contractors to organize, manage and track project tasks, related documents and workflow information all in one app.
The Smartsheet mobile app is based on a spreadsheet interface. Anyone familiar with using spreadsheets won't need to learn anything new in order to use the Smartsheet app. This familiarity makes for easy and efficient viewing, sending and updating of files on Smartsheet's mobile app and increases the likelihood of adoption and usability across a dispersed team, says Brent Frei, co-founder and chairman of Smartsheet.
Video: How Pacific West Property Management Uses Smartsheet Technology
The Smartsheet app is free to all users, but the creator of the Smartsheet does need a Smartsheet license. The mobile app can be used as a companion to Smartsheet's web-based project and work management software. It can be used for both planning and ongoing processes of project management, but it can have a multitude of uses both in the field and in the office. Many users find they like to use the mobile app to create sheets to help keep track of office processes such as employee reviews, contracts or marketing initiatives.
Video: Work Anywhere with Smartsheet Mobile App
According to Frei, the top features of the Smartsheet mobile app include the ability to track changes, attach files to specific line items and the ability to share only specific lines with specific people. Smartsheet keeps a historical record for every cell that can be viewed with just one right click. In addition, users can attach multiple files, pictures, documents, etc. to each row to keep relevant files in the context of the work at hand. The option to add notes and comments to lines also means contractors can have a threaded conversation and record of all comments about a certain task.
Perhaps one of the most beneficial features is that users have the option to specify what is shared. "Not everything has to be shared with everyone," Frei says. "You can give them access to particular rows; you don't have to share the whole project."
While Frei says the app is easy to use because the format is familiar to almost everyone, another big benefit is that users have access to real-time updates which can be managed from anywhere with an active Internet connection. Contractors can also share project information with the client to provide better visibility into the project and the process.
While the app offers different templates for users to choose from, the templates are adaptable so contractors can make them look how they want. The app conforms to the contractor rather than the contractor having to conform to the app, Frei says.
App features:
Based on a spreadsheet format
Keep related information in the cloud – no need to dig through emails
Organize entire project and all associated documents and communication
View documents and communication through the spreadsheet-grid, Gantt charts or calendar views
Share sheets with subs, clients and team members
Attach relevant documents to specific tasks
Set reminders and track everything in one place in real time
Check and update status from anywhere
Upload pictures from camera or photo library
See project visually on mobile device
Send select information to other users instead of sending entire project info to everyone