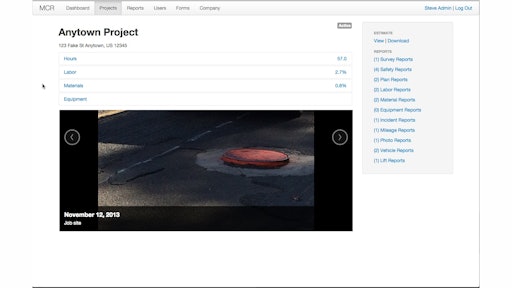 Mobile app: Mobile Crew Reporting
Developer: Logical Engine
Cost: Plans starting at $125 per month plus one-time setup charge for customized forms
Available on: web-based app available for use through web browsers on all devices
Remotely track labor, materials, equipment, project status, safety incidents and more with the Mobile Crew Reporting app. Crews can use the app to complete a daily safety checklist, and supervisors can complete their reports from any mobile device or computer.
"We wanted to create a system that would allow companies with field crews on the road to easily keep management updated on project task progress, material usage and employee hours for payroll entry. It also needed to be able to provide for company specific safety compliance checklists and immediate incident reporting. In short, a system easy enough for field supervisors to use that would keep managers proactively informed on project status," said Tom Droste, Logical Engine president.
The Mobile Crew Reporting app allows the user to track labor for every crew member including time, drive and ride mileage, duty, and daily notes. In addition, the app will keep track of the location and usage of equipment and the estimated, received, needed and used materials on every project.
App features:
Track safety issues with comprehensive safety reports
Review daily and aggregate reports
Receive alerts and notifications as they happen
Take a photo of a problem then instantly communicate with engineering and project management for solutions
Prompt crew supervisors through a work day planning discipline requiring documentation of: crew deployment, equipment to be used, material to be used and confirmation of required daily safety briefings and checks
Complete end of day reporting of project progress, material used and hours worked by each crew member for seamless interface to a centralized payroll system
Automated report consolidation tool that would auto email a daily comprehensive report to key personnel daily
Provide the company with project alert tools where incidents that stopped work or represented a major change in the daily plan could be communicated to all management personnel instantly
Users receive their own unique login along with abilities to create or be assigned projects