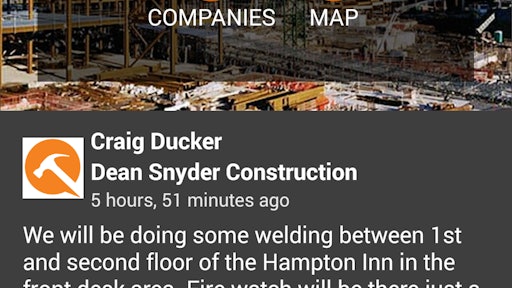 Mobile app: Jobsite Unite
Developer: emploius, LLC
Cost: Free
Available on: Apple and Android devices
The Jobsite Unite mobile app was designed to streamline jobsite communication among superintendents, foremen, project managers and workers. The goal is to facilitate transparent access to all vital jobsite information for both those working on the jobsite and those in the back office.
Users can sign up and create a free account or purchase and set up individual Jobsite Groups and grant access to specific members of a project team.
The app's centralized platform encourages better logistics and workflows which can lead to a safer and more productive jobsite environment, according to company found Jay Olsen.
"Jobsite Unite was designed to save contractors both time and money in operational costs by reducing the types of mistakes that could be avoided with the implantation of a well-defined communications plan. This is a completely new approach that no one in the industry has taken before. We're adapting to the way people are already trying to communicate in the workplace," Olsen says.
The app lets workers check in with a tablet or smartphone and enables location-based communication and roll-call functions while also allowing the user to view tasks or images, locate contact, participate in project interactions and instantly connect with teams on the entire jobsite.
"Collaboration is key to delivering any project on budget and on time," Olsen says. "By combining all jobsite communication into a single platform and including social media inspired features that everyday users are already comfortable with or comprehend, we've established a mechanism for contractors to increase the fluency of both the management and field personnel."
According to Jobsite Unite's Community Builder Trevor Hanus, the top three features of the app include its Jobsite News Feed, its list of contacts for a jobsite and the ability to send messages and tag users. The News Feed allows anyone on the jobsite to post messages and images which are then broadcast to the entire jobsite. It's like a Twitter or Facebook news feed specific to a single construction site, Hanus says. In addition to the News Feed, app users can send messages and tag users allowing them to communicate directly with others on matters that do not concern the entire site.
The contact lists allows workers to see names, phone numbers and more for all the workers on a particular construction jobsite. App users can even find who is currently on the site as well as the main point of contact for each company.
While the app was designed to help save time and reduce errors on construction jobsites, it can also help build relationships among the different subcontractors onsite and facilitate more of a team atmosphere on construction projects, Hanus adds.
App features:
Establish Jobsite Group profiles
Monitor discussions or activity on a page
Post messages
Add photos and comments to a news feed
Send out push notifications in real time
All jobsite contacts automatically synced and saved to your contact list
Call and text message contacts directly from the app
Send private messages to workers without affecting your SMS (text) plan
Responsive web design and intuitive dashboard