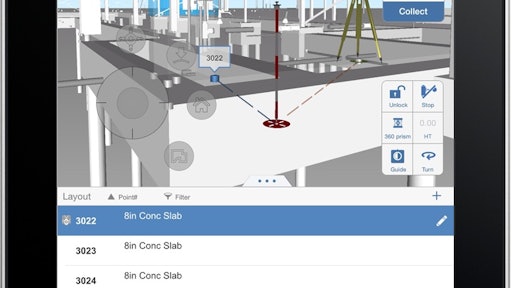 Mobile app: Autodesk BIM 360 Layout
Developer: Autodesk, Inc.
Cost: Subscription to BIM 360 web service
Available on: iPad
The Autodesk BIM 360 Layout mobile app connects Building Information Modeling (BIM) to the construction layout process using BIM 360 cloud service. The app and BIM 360 web service streamline the process of creating field points in a project model to laying out those points on the jobsite with a total station.
Podcast: How Autodesk BIM 360 Layout Mobile App Addresses the Challenges Within the BIM Process
The BIM 360 Layout app features a first person-immersive view of the building model as the user walks the jobsite to layout field points. Users can then connect the field point creation process within the coordinated model to the actual layout process without manually preparing and exporting point lists.
Video: How Autodesk BIM 360 Layout Helped PCL Construction Streamline its Process
Using a direct connection to a Topcon LN-100 Robotic Instrument via WiFi, the field user is guided to physical locations on the jobsite based on points created in the 3D model that are represented in the BIM 360 Layout app.
Podcast: What Makes BIM 360 Layout Mobile App a Game Changer for the Construction Industry
App features:
Synchronizes with your BIM 360 account to download and upload project models with point location coordinate detail
Provides field layout personnel with the most up-to-date coordinated model to conduct layout activities
Eliminates the manual process of preparing and transferring point coordinate detail to field data controllers for layout
Communicate and share issues collected in the field directly in the coordinated model for action by the VDC team in the back office
Utilizes an intuitive 3D model based app interface for navigating and locating point coordinates on the jobsite
Analyzes layout productivity data to determine best practices for future planning and execution
Upload models with layout points created in Autodesk Point Layout directly from Autodesk AutoCAD, Autodesk Revit and Autodesk Navisworks into BIM360 Glue and sync with the BIM 360 Layout app
Seamless connection to total station hardware
Control the total station remotely utilizing guide and point-turn functionality
Using known point and resection workflows for total station set-up, the app provides intuitive, step-by-step configuration
Real-time model navigation for conducting layout, QA/QC and as-builting on the jobsite