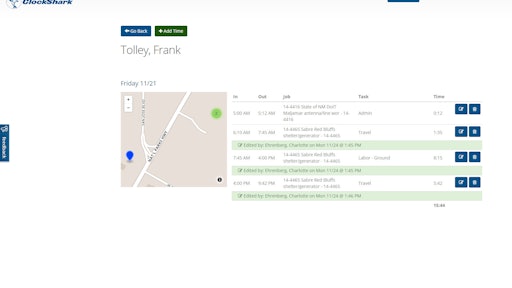 Mobile app: ClockShark
Developer: ClockShark, LLC
Cost: Free with employer account
Available on: Apple, Android and Windows devices
ClockShark is a time clock for construction and field service companies. The time clock app is free for employees after the employer signs up for a ClockShark subscription. Designed by a former construction contractor, the cloud-based construction time clock app syncs times automatically with the server and features GPS tracking of worker locations. ClockShark's GPSTrak features shows where each punch occurred on a map.
Employees can punch in and out with the ClockShark app using their smartphones, tablets or the web. Once punched in or out, employee times and worked job codes from the app are automatically uploaded to the web dashboard. Employers can use the dashboard to view and edit time including daily totals, weekly totals and job totals.
Video: ClockShark's QuickBooks Online Integration
ClockShark can also be used as a scheduler. Employers can drag any active jobs onto the schedule board. Employees get the schedule updates instantly on their mobile devices.
App features:
Add notes while clocking in and out
CrewClock feature allows supervisor ability to clock in and out for other crew members
Add notes to scheduler
View upcoming work schedules
See who's working in real-time via the dashboard
Add jobs via the website or mobile app with name and job number
Employees can select a Task Code such as travel time, concrete work, framing, etc.
Employees can switch jobs or tasks from the app
QuickBooks Online integration
Run and print reports such as total hours by employee or total hours per jobsite
Print PDF time card and jobsite reports or export the data in CSV/Excel format