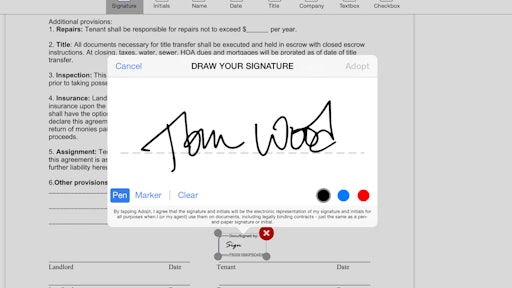 Mobile app: DocuSign
Developer: DocuSign
Cost: Free
Available on: Apple, Android and Windows devices
The DocuSign mobile app provides a simple and secure way to electronically sign documents and collect signatures through access to the DocuSign Digital Transaction Management (DTM) platform. The platform is a fast, easy, secure and fully legal way to streamline manual, paper-based processes to transact business completely digitally. DocuSign can be used for all key aspects of construction including project management, sales, purchasing, compliance and staffing documents.
Construction is one of the fastest growing segments for DocuSign, says Miles Kelly, head of construction sales and marketing for DocuSign. The cloud-based (or SaaS-based) service provides construction contractors with an ease of use and mobility as well as helps eliminate the amount of paperwork.
Tri-North Builders, a national construction company and DocuSign customer, has reported the platform and mobile app have allowed the contractor to reduce the average time it takes to get subcontractor contracts signed from two to three weeks down to just one to two days with DocuSign. In fact, Kelly says 85 percent of all DocuSign documents get signed within the first 24 hours.
DocuSign works in three steps. First, the user imports a document from email, Dropbox, Box, Google Drive, Evernote Salesforce, Microsoft or directly from another application. Next, the document is signed. The app uses "tap and place" to securely add a signature and initials into documents, place text, date fields and check boxes. Documents can also be sent out for signature and/or complete in-person signing interactions directly on a tablet or smartphone Finally, the signed document can be emailed or saved back to programs such as Dropbox, Google Drive, Box, Evernote, Salesforce, Microsoft or a DocuSign account.
Another key feature of the platform and mobile app is that it captures an audit trail for every transaction. It tracks who did what, when and where – providing an accuracy that does not exist in the paper world, Kelly says. "You know exactly who's sending. You know who's signing. You know when they signed it. You know where they were – it actually tracks the IP (electronic) address of who's signing so you know where they are," Kelly says.
DocuSign is a free app, but users can upgrade to a Professional plan for more premium features and unlimited signature requests. A Professional monthly subscription is $19.99 or go the annual route for $179.99.
App features:
Create your signature and initials using your finger/stylus, uploading a picture of your signature, or selecting one of the preformatted styles
Add text to a document such as name, company, address, date, PO number and more
Receive real-time push notifications when a document is waiting for signature and when it has been signed
With select DocuSign plans offline signing allows you to sign a document even when a network connection is unavailable. Once the device reconnects to the Internet, the document will sync to DocuSign.
Set signing order and workflow for multiple signers
Guide signers with "Sign Here" tags that show precisely where to sign, initial or add information
Import and store documents from multiple cloud services, including Dropbox, Box, Google Drive, Evernote, Salesforce, Microsoft or import directly from email
Supports almost any document format (PDF, Word, Excel, Text, and more)
Legally binding — DocuSign's legal signatures comply with the Federal eSIGN Act
Complete audit trail to see who signed when and where
Documents are encrypted, tamper-proof and tamper-evident — safer and more secure than paper
DocuSign is ISO 27001 SSAE16 compliant
Project management — delivery notices, purchase order approvals, work orders, change orders, budget approvals, compliance and sign-offs
Sales — request for proposal (RFP), request for information (RFI), quotes, design-build contracts, construction contracts and Salesforce integration
Compliance — permitting requests, worker certifications, supplier certifications, inspection forms, LEED certification documents, hazardous waste forms and self audits
Staffing and procurement — subcontractor agreements, statements of work, supplier contracts, vendor contracts, purchase orders and invoice processing