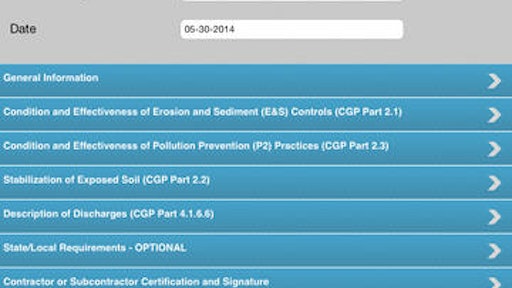 Mobile app: Stormwater Inspection Reports
Developer: Associated General Contractors of America
Cost: Free
Available on: Apple devices
Construction projects that require a Stormwater Pollution Prevention Plan can benefit from using the Stormwater Inspection Reports for Contractors mobile apps. This electronic documentation tool can help quickly and easily prepare stormwater inspection and corrective action reports on an iPad, iPhone or iPod.  The customizable digital reports can help contractors meet the minimum reporting requirements on construction stormwater permits.
The app is based on the new Inspection Report Template and Corrective Action Report Form from the U.S. Environmental Protection Agency in conjuction with the Associated General Contractors of America.
The Stormwater Inspection Reports mobile app allows the user 10 free reports with additional reports costing $1 each.
App features:
Step-by-step jobsite documentation
Detailed instructions for each section
Date and time-stamped photo documentation
Electronic signature capture
Export PDF reports via email