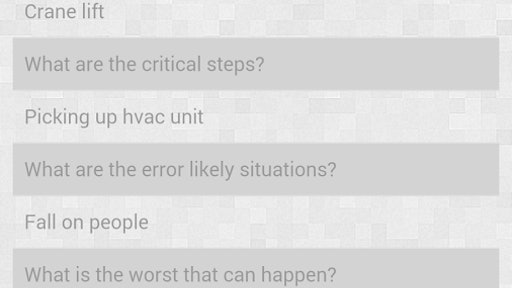 Mobile app: CCS Safety
Developer: Capital Construction Solutions
Cost: $4.99 and (optional) $0.99 per user per month fee for administrative website
Available on: Apple and Android
CCS Safety can be used by construction contractors, owners and managers to help with job hazard analysis, safety reviews and incident reports. The cloud-based application makes it easier for construction contractors to perform safety reviews with photos by eliminating the paper process, helping to reduce the amount of lost or late safety paperwork.
Released in December 2014, the top key feature of the mobile app is real-time reporting, according to Cory Davis, CEO of Capital Construction Solutions. The app allows contractors to use their mobile device to record safety issues which can then be tracked using a website or emailed from within the application. All safety issued are tracked within the application to ensure that issues are noted and then closed. Users can track incidents by job, project or foreman.
App users can also take photos with their mobile devices and attach and store with each report.
In addition to recording, tracking and reporting safety hazards and incidents, the CCS Safety app also offers 54 jobsite safety categories with over 1,300 safety questions for contractors.
App features:
Immediately create and send incident reports with photos
Manage safety issues through notes, photos and email functions
Provides mechanism to benchmark results to reduce overall risk
Seven performance metrics available in real-time
"Find Nearest Hospital" button for immediate emergency concerns
Will integrate with future CCS mobile solutions (Capital Construction Solutions plans to release 32 mobile solutions over next three years)