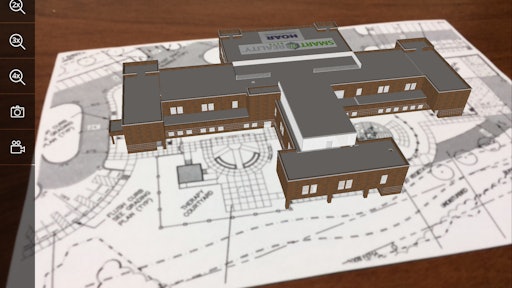 Mobile app: SmartReality
Developer: JBKnowledge, Inc.
Cost: Pay per project
Available on: Apple and Android devices
SmartReality is an augmented reality mobile app that uses the mobile device's camera to overlay an interactive BIM model on a printed construction plan to transform the plans from 2D to 3D visualizations. The app helps bring projects to life in an interactive three-dimensional platform that allows users to see a finished project or components of a project at various stages in the building process.
While viewing the projects, users can zoom, expose structural layers with a touch, move through the stages of a project over time and record images and video of their experience.
[VIDEO] SmartReality Mobile App Brings Augmented Reality to Construction Industry
According to the app developer, one general contractor was able to use SmartReality to present and eventually win a multi-million dollar project to a school board. The contractor handed everyone in the room a tablet and placed a 2D floor plan of the project in front of them. Using the app, the school board members were able to visualize the finished building and interact with the project. School board members said it was the first time they had actually understood a projected floor plan bid.
Video: How Augmented Reality Could Integrate into the Hardhat of the Future
Contractors can create a free account and upload 2D and matching 3D plans and models for a quote. SmartReality developers then match the plans and models for viewing in the app and will notify the user once it is done. The next time approved users open up the mobile app and load the project they can point the device's camera at the 2D plan to see the 3D model overlaid.
The SmartReality app is also available in a virtual reality version, developed by the JBKnowledge Labs R&D team that lets users virtually walk through the building models using virtual reality solutions like the Oculus Rift, Samsung Gear and Google Project Tango.
Video: Is Augmented Reality the Future of Construction Safety?
App features:
Uses iOS or Android mobile device's camera to overlay 3D visualization in real time on 2D blueprints
Model can be made interactive to show different stages or layers of building process
Also works with VR and AR headsets like Oculus Rift and Epson Moverio BT-200 smart glasses
Pricing includes unlimited viewing and sharing of a project on unlimited devices by unlimited users
Projects hosted for one year; monthly fee after first year to continue project hosting