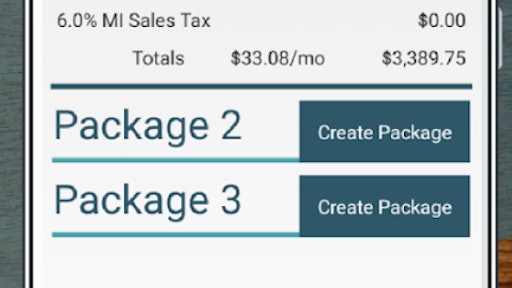 Mobile app: JobFLEX
Developer: JobFLEX
Cost: Free
Available on: Android devices
Construction contractors can use the JobFLEX mobile app to create quotes, proposals and estimates in just minutes without the need for an Internet connection.
[VIDEO] Contractor Estimating App Creates Quick, Easy Quotes
The free 30-day trial version of JobFLEX allows users to create quotes and estimates for up to 50 customers.
Estimates and proposals can be created in just minutes using drop-down menus and a customizable estimate format. Contractors can choose what is shown on each quote including quantities, financing, line item pricing and more.
In addition to its estimate and proposal features, JobFLEX also helps contractors schedule appointments for sales and service staff, assign crews and equipment to jobs, and manage the company calendar.
Contractors looking for more features can upgrade to either the Basic version ($9 per month) or the Pro version ($39 per month). The Basic version is designed for one user and unlimited quotes and estimates. The Pro version can have up to five users and includes unlimited quotes and estimates as well as file storage, customer management and file storage, scheduling and Google Calendar integration, and reports tools.
App features:
Create, organize and store client info to access anytime
Tailor estimates and proposals with company information, logo and contracts or terms and conditions
Add photos to quotes and proposals
Personalize estimates with customizable cover page
Set follow-up reminders
View and export reports for open quotes, sold jobs, sales performance, marketing performance and more (Pro package only)