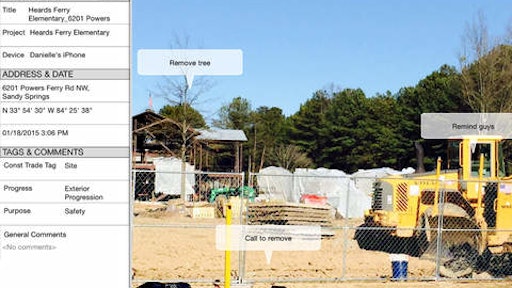 Mobile app: FotoIN Mobile
Developer: FotoIN Mobile Corporation
Cost: Free
Available on: Apple and Android devices
Construction contractors can use the FotoIN solution for visual verification of completed field work. FotoIN is a B2B business focused app that automates business photo documentation and connects the field and office in real time.
FotoIN automates the manual photo documentation filing and organization process and can save up to 40% of the time spent capturing and filing jobsite photos.
The FotoIN app uses technology that embeds field data within photos and forms to help with the verification process. FotoIN automatically captures and embeds GPS coordinates, data and time stamp, device, user and project/property name.
In addition to capturing photos, FotoIN users can create custom photo reports for all phases of construction. Daily reports can be used to document and report defects.
The FotoIN mobile app is free for users who want to store photos but do not need a sync connection to their storage. Users looking for more advanced features can upgrade to one of four plan levels: FotoFiler ($5/user/month), FotoDocs ($15/user/month), FotoIn Pro ($35/user/month) and FotoIn Enterprise (price varies).
App features:
Capture, tag and annotate photos
Automatically upload, organize and file photos into folders or cloud file storage
Automatically capture project, date and GPS location data and auto name photos
In-app map view lets user see where all files were created
Sync across all company or team devices
Generate, preview and email PDF reports
Sync photo files or PDF reports