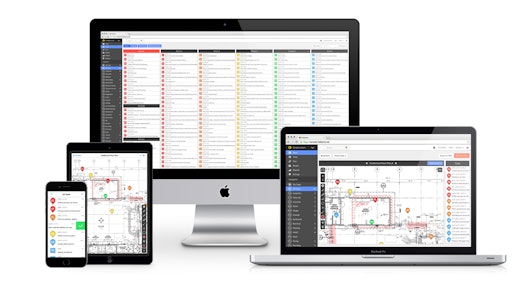 UPDATED FEBRUARY 4, 2018

Mobile app: Fieldwire
Developer: Fieldwire
Cost: Free
Available on: Apple and Android devices
Designed to help construction contractors manage operations on commercial construction projects, the Fieldwire mobile construction app lets foremen, superintendents and engineers view plans, track issues and manage tasks while in the field.
"There was so much technology dedicated to the pre-construction phase of the project, but after the hand-off to the field there was very little technology employed," said co-founder Javed Singha. "Fieldwire fills this void by providing a task management and collaboration platform combined with a great plan viewer and issue tracker to help foremen, supers and engineers increase productivity, eliminate rework and reduce waiting time."
Fieldwire has a HD viewer which works offline to allows users to view plans and blueprints. In addition to viewing, users can also add markups and annotations, callouts, progress photos and RFI hyperlinks. As a bonus, the blueprint software finds all navigation callouts, identifies the related plans in a construction set and links them automatically.
Issue tracking is one of the key features of the app. Users can assign a priority, category, assignee, location, due date and manpower/cost info for any issue. You can also add photos, PDF attachments and checklists.
Finally, when it comes to tasking and scheduling, Fieldwire users can import task directly from the project plan, organize tasks by subcontractor, and track costs and manpower. Tasks can be created and assigned within seconds so subcontractors can be notified and working on the most critical items. Users can also organize tasks by priority or due date.
Fieldwire also features a Custom Form Builder allowing users to build forms to fit any existing process on their jobsites. In addition, Fieldwire also offers six default construction forms for daily reports, inspection checklists, RFIs, timesheets, safety audi forms, and time and materials forms.

Want to learn more? Fieldwire has 15 instructional videos to help users get the most from the mobile app.
App features:
Import blueprints as a multipage PDF or connect directly to a posted construction set on Box or Dropbox
Export as-built blueprints in PDF
Checklist templates
Create new report templates and schedule them to be sent automatically each day
Cost tracking per issue
Two-step verification for subcontractors for inspection, punch list and issue tracking
Filter tasks and scheduling by location, trade, priority and owner
Generate task and scheduling project archive
Push/email notifications when tasks are updated
File sharing
Automated reports
Automatically archives everything in app for streamlined reporting