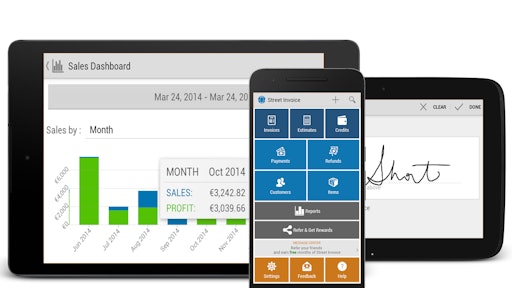 Mobile app: Street Invoice Mobile Invoicing
Developer: On trac
Cost:  Free
Available on: Apple, Android, Windows and BlackBerry devices
On the go contractors can use the Street Invoice mobile app to create professional invoices right from their phone or mobile device. With Street Invoice, contractors simply select the customer from a contact list, choose products and services, and then Street Invoice calculates taxes and totals. The mobile app allows contractors to send an invoice by email, text or chat.
Street Invoice users can create more than just invoices. The app creates bills, receipts, estimates, quotes, proposals, credit memos and refunds.
App users can print invoices from a desktop or cloud printer to send themselves. Or, Street Invoice will send printed invoices via USPS first class business mail (fees apply).
Street Invoice is available in four plan options including:
Starter (free)
Basic ($4.99 monthly or $49.99 annually)
Pro ($9.99 monthly or $99.99 annually)
Enterprise ($14.99 monthly or $149.99 annually)
The Starter version allows 15 invoices per month. The Basic version allows 50 invoices. The Pro version allows 100 invoices, and the Enterprise version allows unlimited invoices per month. Additional features are included with each higher plan.
In addition to instant invoicing, Street Invoice also features an instant payment feature. The 'Click n Send/Click n Pay' technology allows users to deliver an invoice and collect a credit card payment through the mobile app. 
App features:
Create, preview and send estimates, quotes and invoices via email and text
Send out automatic statements
Fully customizable with company logo, item lists, multiple pricing levels, invoice terms, purchase order numbers, terms, tax rates and more
Customized and printable dashboards and reports
Share invoices and customer info with your entire team
Push invoices and messages instantly from a desktop to mobile devices
Filter and sort invoice, estimates and credits; group by sent status and payment status
Track customer, client balance, history and contact information
Track products, service items, invoice items and stock
Automatic sync with desktop computer
Supports any currency and date format
Documents can be generated in various languages
Advanced features: signature capture, job and project racking, data live across multiple devices, team use, multiple companies, secure cloud-based technology and desktop access