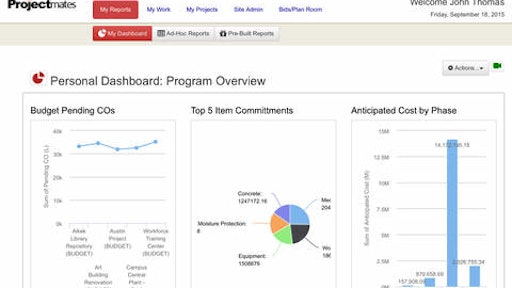 Mobile app: Projectmates Mobile
Developer: Systemates, Inc
Cost:  Free
Available on: Apple and Android devices
Designed for Projectmates users, Projectmates Mobile is a project management tool that lets users manage and share project data remotely. Users can manage documents, contact information, images, RFIs, daily field reports, contracts, change orders, proposals, invoices and schedules on one platform.
The Projectmates Mobile My Work page provides access to a comprehensive view of pending and outstanding items across all of the user's assigned projects.
App features:
Access construction documents and drawings
Upload pictures
Create RFIs or field reports
Manage punchlists
Update schedules
Live information updates with no syncing required
Download and store files and images for offline viewing
Upload documents from other cloud services such as Dropbox, iCloud, Google Docs and more
Reach out to team members through the contact directory
Share documents, schedules and task assignments remotely