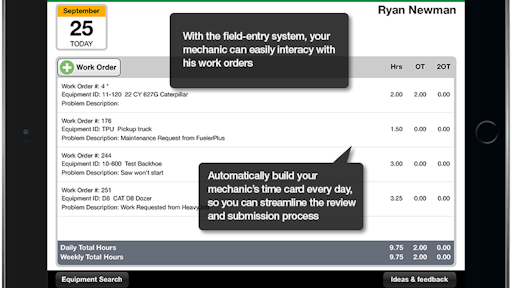 Mobile app: Equipment360 Mobile Mechanic
Developer: HCSS
Available on: Apple devices
The HCSS Equipment360 Mobile Mechanic app connects your mechanics on the jobsite to the shop. The maintenance management solution tailored for the construction industry offers a full suite of applications including inventory management, asset management, preventive and predictive maintenance, work order management and more.
Mechanics and technicians can work offline in remote locations and use tablets to schedule jobs, check equipment status, analyze unit costs and track tasks, work orders, inventories, time cards and more.
Fleet managers using Equipment360 can view alerts and notifications about their fleets. Priority alerts help mechanics keep an eye on preventive maintenance, field requests, due dates, inventory reorder levels and more. Automatic email and text alerts can be sent to those who need them.
Equipment360 also allows users to assign work orders and schedule mechanics. The Mechanic Planner view lets users view all mechanics and the status of their work orders.
Equipment360 Mobile Mechanic users can create an electronic time card to eliminate the need for double manual entry and manage assigned work orders. Shop managers can review time cards and make needed adjustments, send them back for correction or approve them. Approved time cards can be sent right to accounting or payroll departments.
App features:
Daily mechanic time cards
Create and complete work orders
Take pictures and record detailed notes
Access equipment details, warranty information and reference parts lists
Integrates with other HCSS products