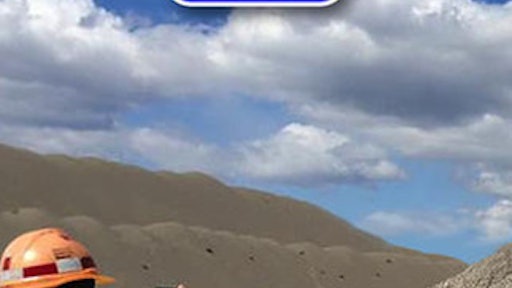 Mobile app: Stockpile Reports
Developer: URC Ventures Inc
Cost: Free with annual subscription
Available on: Apple devices
Use the Stockpile Reports mobile app to measure accurate stockpile volume and tonnage. The iPhone app is part of a tool system that helps collect data for each stockpile for all kinds of materials. The Stockpile iPhone app is the only ground-based stockpile image measurement technology currently on the market, according to developer URC Ventures Inc.
Construction contractors can use the app to verify stockpiles of materials they ordered from a third party were delivered in the exact amount that was ordered. The app is also useful for contractors who may be looking to sell materials (such as materials collected during demolition). The Stockpiles app can help measure and verify the amount of material the contractor has to sell.
Another use for construction contractors is keeping tabs on materials being stored over longer periods or large piles of materials that are used throughout the season or on multiple jobs. 
How do you use the Stockpiles mobile app? Simply walk the perimeter of the pile while pointing your phone at the pile surface. The app does the rest. The app uses a specialized video capture application to measure the stockpiled material.
The app's patented computer vision algorithms can also help identify problem piles where there are measurement risks from vegetation, equipment, debris, standing water and more.
The app also supports alternative measurement methods if a user would prefer to enter measurement information manually or from a walking wheel instead of using the video method.
Since the app runs on a user's iPhone, anyone on the construction crew can essentially run the app and take measurements allowing for inventory to be taken quicker than if only one person was in charge of all the measurements.
The Stockpile Reports mobile app is part of a measurement system requiring an annual subscription. The Stockpile measuring system features various pricing plans that are based on customer's measurement needs.
App features:
Receive calculations in hours
Enables remote site management and accountability
Validate buy/sale amounts with third parties
Reduce over/under producing due to improper belt scale calibrations
Provide documented materials inventory
Provide automatic audit trails and monthly reports
Set your own company-wide thresholds; piles that don't meet these standards are automatically flagged