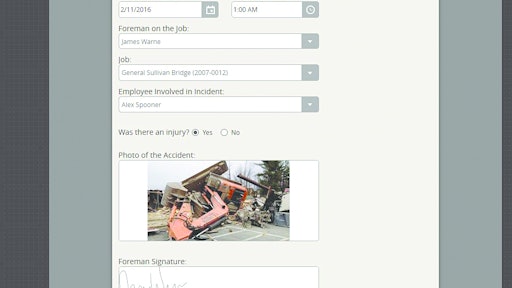 Mobile app: B2W Inform
Developer: B2W Software
Available on:  Any mobile device with a web browser; download from Google Play and the App Store 

Released in June 2016, B2W Inform is a mobile-first data capture and analysis solution that mines data company-wide to generate reports, dashboards and alerts providing construction companies with timely, accurate information to improve operational performance, safety, quality and financial outcomes. Fast, easy creation and management of highly configurable form templates also enables companies to expand and structure data collection, replace inefficient paper-based processes, capture richer content in real time and connect field and office employees anytime, anywhere and on any device.
[VIDEO] Overview of the B2W Inform Mobile App for Data Collection
"Data that construction companies could use to improve performance, quality, safety and profitability is often underutilized because it is unstructured and trapped in multiple, static systems and formats used to collect it," according to B2W Software CEO Paul McKeon. "Inform allows these companies to not only collect data more effectively, but also to connect and communicate that data to drive better decisions."
With B2W Inform, users can create and publish highly configurable form templates with drag-and-drop elements such as text, tables, check boxes and pick lists. E-signatures, photos, attachments, calculation, timestamps and GPS location data can also be included.
"We've made it simple for almost anyone to configure forms to match specific needs and to centralize how those forms are published and managed," McKeon explains. "This presents opportunities to connect the field and the office, replace inefficient processes and expand access to real-time data. 
B2W Inform can be implemented independently or to complement applications within the B2W ONE (Operational Networked Elements) Platform.  
App features:
Online and offline modes

Drag-and-drop creation of highly configurable form templates
Dynamic, connected forms capturing rich data
Data binding of form fields to unified B2W operational data
Make data fields required; users cannot submit forms unless all required fields have been populated
Built-in data validation ensures users are submitting accurate data on their forms
Ability to define single or multiple levels of approval; correct parties can be notified when a form requires their approval
If the form is denied, user who submitted it will be notified of the changes that need to be made
Ability to create reports, dashboards and ad-hoc queries
Aggregate data from multiple data sources to better analyze data being collected throughout the company
Flexible role-based security system - you decide who has the ability to create form templates, fill out forms, approve or deny forms, and generate reports and dashboards, as well as select what information they can see